Proform Performance 1450 Treadmill Review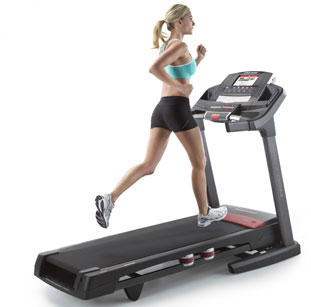 Proform Performance 1450 Treadmill Reviews
Just when you think you've seen it all in treadmills, the Proform Performance 1450 treadmill provides you with unique features to battle boredom so you can achieve your goals faster.
Designed with advanced technology and superior features, the machine boasts of power, comfort, and entertainment that will help you get the results you've always dreamed of. Among its high-technology features are 10" Android-powered touch screen, iFit Live, ProShox Plus Cushioning, 20"x60 treadbelt, 3.25 CHP motor, AutoBreeze Workout fan, and many more!
Is It for You?

If you're looking for a mid priced workout machine, then you should definitely get the Proform Performance 1450 treadmill, especially if you are an experienced runner who wants to get the most out of your cardio exercise. The price of the machine comes with durability, advanced features and technology, and extraordinary comfort that should help motivate you in doing regular workout sessions.
What You'll Get: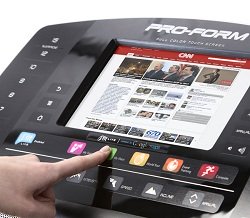 The Proform Performance 1450 treadmill is one of the first exercise machines that allows you to go online and connect to the Internet while you workout. With its built-in 10-inch Android-powered, full-color touch screen, you can check your email, read news, watch videos, and browse the Internet to avoid boredom while doing your runs.
Integrated with the iFit Live, you can also use Google Maps to download routes and courses that you want to use for your workout and watch your progress through the display. Moreover, it shows important statistics like your time, speed, incline, distance, pulse, and calories burned.
Like most treadmills, this model from Proform is designed with the CardioGrip Heart Rate Monitor that allows you track your heart rate while working out. Located at the handlebars, the system can monitor your heart rate at the moment you begin your exercise.
Feeling the heat and intensity of your workout? This treadmill is equipped with the AutoBreeze Workout Fan that provides sufficient airflow as you run or jog. As you change your workout speed, it automatically adjusts airflow, as well, to keep up with the intensity of your cardio exercise – providing you a cooler, more focused session every time.
While cheaper models of treadmills have 12 to 20 built-in workout apps, this model has 26! Choose from a variety of workout programs that either focus on intensity, speed, incline, or calorie-burning. Plus, with the iFit Live feature you can download even more workout programs for added variety.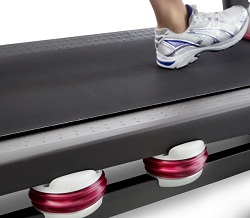 The machine is also built with the ProShox Plus Cushioning System that will help you avoid stress and impact on your joints. Aims to provide you a more comfortable workout surface, you will definitely feel the difference in your exercise sessions.
Other features of the Performance 1450 treadmill include a 3.25 CHP DurX™ Commercial Pro Motor, 20" x 60" 2-Ply Commercial Treadbelt, music port for iPod, Intermix Acoustics 3.0, SpaceSaver design, and many more!
Weaknesses:
The biggest weakness of this machine is that it requires a wi-fi connection to take advantage of its built-in browser and iFit Live. If you don't have a wi-fi connection, then this machine becomes pretty ordinary.
Recommendations:
The Proform Performance 1450 treadmill is one of the more advanced treadmills out in the market right now, featuring cool innovations and superior features you'd truly enjoy. If budget is not a problem and you've always wanted a treadmill that shall help you achieve your fitness goals, then by all means, get this machine. (Visit our best buy treadmills page to see other quality treadmills that we recommend)
Summary:

Price: $1,499

Motor: 3.25 CHP DurX™ Commercial Pro Motor

Speed: 0 -12 MPH

Incline: 0-15%

Treadbelt: 20 x 60"

Heart Rate Monitor: Yes

Folding: Yes

Dimensions: 81" L x 36.8" W x 58.5" H

Maximum Weight Capacity: 350 lbs.

Warranty:

Lifetime for frame and motor; 5 years for parts; 2 years for labor

Features:


• 0–12 MPH 1-Touch™ Speed


• 0–15% 1-Touch™ Incline


• 20" x 60" 2-Ply Commercial Treadbelt


• ProShox Plus Cushioning


• 10" full color touch screen powered by Android


• CardioGrip Heart Rate Monitor


• AutoBreeze Workout Fan


• 26 workout app


• Music port for iPod


• Intermix Acoustics 3.0


• SpaceSaver® Design
---
Where to Buy?

If you plan on buying a Proform Performance 1450 treadmill, I suggest you buy from amazon. They offer the lowest price on the net. It is currently on sale for just $1,499.00.


Click here to visit Proform and learn more
---
Return from Proform Performance 1450 Treadmill to Proform Treadmills
---