Proform CrossWalk Caliber Treadmill Review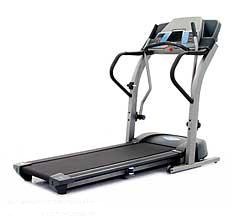 A unique feature that can be found in the Proform CrossWalk Caliber treadmill is the patented upper body exercise bar.
But just like other Proform treadmills, this one still comes with poor quality.
Is It for You?

This model is perfect for those who want an arm exerciser in their treadmill. But I must warn you, this treadmill has poor quality so don't expect it to be useful for very long. If you're a serious runner, I suggest you buy a treadmill not lower than $1,500. (See our best buy treadmills page)
Features and Benefits
The 2.75 THP / 1.75 CHP motor is good enough for most walkers. But I don't think it would be powerful enough for runners. This motor can reach speeds of up to 10mph and can be elevated for up to 10%. But due to its cheap parts, I don't recommend maximizing this treadmill's capabilities.
As I've said above, this treadmill boasts the patented upper body exercise bars through the CrossWalk™ Total-Body Workout feature. With it, you'll have a total body workout thus, increasing calorie burn.
The 4-window LED/5x7 matrix console scans feedback of your workout including speed, pace, time, distance, incline, pulse and calories burned so you'll always know all information important to you.
The Proform CrossWalk Caliber treadmill also offers 6 built-in workouts and 2 free iFIT CDs to give you more variety and flexibility in your workouts. Or if you want, you can just use grip EKG™ Pulse Sensor and workout in your target heart rate.
Other features include the CoolAir™ workout fan to keep you feeling fresh especially during those long workouts, the SpaceSaver® fold away design so you can fold the treadmill after use to save area, and the QuickSpeed and Power Incline controls to allow you to easily adjust the intensity of your workouts.
What This Treadmill Lacks
The Proform CrossWalk Caliber treadmill comes with cheap parts which is the reason why its quality and reliability is way below average.
Recommendation:
I don't recommend the Proform CrossWalk Caliber Treadmill. It may be better than other Proform models, but is still not at par with other quality best buy treadmills.
If you really want a quality entry level machine, I suggest you visit our Smooth 5.15P review. it currently our best buy treadmill below $1,000.
Summary:

Cost: $799

Motor: 2.75 THP / 1.75 CHP

Running Deck: 55"L x 18"W

Speed: 0 to 10 mph

Incline: 0 to 10%

Foldable: Yes

Heart Rate: Yes

Warranty: 90 days

Features: 


• EKG Grip Pulse Sensor


• CoolAir™ workout fan


• QuickSpeed™ control


• Power Incline™


• 4 window LED display


• 2 iFIT CDs


• CrossWalk™ Total-Body Workout


• 6 Built-in Workouts

---
Return from Proform CrossWalk Caliber Treadmill to Proform Treadmills
---