Proform C1050 Treadmill Reviews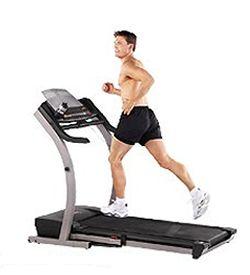 Proform C1050 Treadmill Reviews
The Proform C1050 is another great looking treadmill from Proform.
But just like other Proform products, this one also comes with cheap parts so its quality is definitely questionable.
Is This Your Best Buy Treadmill?

This unit would fit those who would use it for walking or jogging. I wouldn't recommend this treadmill to serious runners due to its cheap parts. If you feel like this model isn't for you, I suggest visiting our best buy treadmills page and choose the perfect treadmill for your needs.
What Proform C1050 Treadmill Offers
This treadmill offers a 1.75 CHP motor which can give you speeds of up to 10mph. However, due to its lack of quality, I wouldn't recommend maximizing this treadmill's capabilities.
Update: This treadmill has been discontinued.

As an alternative, you might want to visit our best treadmill page to look for similar treadmills that we recommend.
The 0-10 mph QuickSpeed™ and 1.5-10% Power Incline™ features allow you to change your speed or incline with a simple push of a button. This enables you to easily adjust your workout intensity even if you're in the middle of a run.
The 8 built-in workouts along with compatible iFIT® features give you more programs to choose from thus, keeping your workouts interesting and fun.
EKG™ Grip Pulse System lets you keep track of your heart rate. This is perfect for those who love to workout in their target heart rate zones to get a more efficient workout.
The ProTech™ Adjustable Cushioning of this machine cushions harmful impact on the ankles, knees, hips and backs which is perfect for those coming off an injury and those trying to prevent one from happening.
The SpaceSaver® Fold Away Design allows you to fold-up the treadmill after use so it doesn't take up any extra room. This capability would be most fitting to those with limited spaces at home.
What Proform C1050 Treadmill Lacks
Aside from the cheap parts mentioned above, the Proform C1050 treadmill lacks the motor power to really be considered as one of the best buy treadmills in its price range.
Do I Recommend It?
I don't recommend this treadmill. There are other quality treadmills in this price range that would give you more value for your money. (visit our best recommended treadmill section)
Summary:

Motor: 1.75 CHP

Speed: 0 to 10 mph

Incline: up to 10%

Belt Size: 55" x 20"

Maximum User Weight: 250 lbs

Foldable: Yes

Warranty: 90 Days

Heart Rate: Yes

Features: 


• iFIT® compatible 


• Space Saver® Fold Away Design


• 8 Built-In Workout Programs 


• EKG™ Grip Pulse System 

• QuickSpeed™ and Quick Incline™ control

• ProTech™ Adjustable Cushioning


• 4 Window LED Display


• Pair of 2-lb Hand Weights


• Magazine Rack

---
Where to Buy?

If you plan on buying a Proform C1050, I suggest you buy it at amazon. You can get it for just $849.00.

Click here to visit the website and learn more
(opens new window)
---
Return from Proform C1050 Treadmill to Proform Treadmills

---