Proform 995 SEL Treadmill Reviews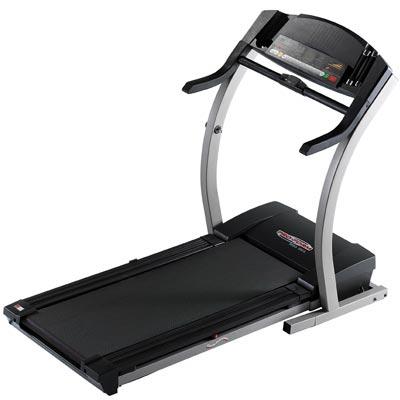 Proform 995 SEL Treadmill Reviews
The Proform 995 SEL treadmill is an eye catching entry level treadmill. The biggest reason people buy this model is because of its numerous features.
It is the most feature packed unit below $700.
Is This Treadmill for You?
This treadmill is perfect for beginners who doesn't want to spend much on a decent machine since it would only be used a few times a week. If you think the description above fits you, then I suggest you read on. This might be the model you're looking for.
However, this treadmill doesn't suit hardcore runners. Its quality is way below what serious runners require. They would be better off buying a machine in the $1,500 or above price range. (See our best buy treadmills page)
Update: This treadmill has been discontinued.

As an alternative, you might want to visit our best treadmill page to look for similar treadmills that we recommend.
What Proform 995 SEL Treadmill Offers
This treadmill boasts a 2.75 HP Silent Stride™ motor which gives you smooth and quiet workouts. And the roomy 20" x 55" treadbelt makes sure that you're always comfortable while running.
The custom cushioning system lessens the risk of joint, ankle and knee injuries. It cushions the impact for a smoother run. What's more, you can adjust it for a softer or firmer stride.
The 0-10mph QuickSpeed™, the 1.5-10% Power Incline® and the 2-lb. ErgoGrip™ hand weights give you the ability to increase or decrease the intensity of your workouts according to your needs.
The Proform 995 SEL treadmill is compatible with iFIT.com technologies, which provides you with motivation, coaching and fitness personalization. But if all these iFit features are confusing you then you can use the 8 built-in workouts to start immediately.
The 8 weeks to a better body program comes with your purchase of this model. It includes an 8 workout CD that can be plugged into the iFIT communication port to give you a personal coach and high energy music. Plus, you'll also get a Shape It Up! strength training video and a guidebook and planner.
If you want to exercise in your target heart zone, this treadmill also has that capability through the EKG2 Pulse ™ Sensor. You simply grip it then view your heart rate through the PulseView™ window.
What Experts Viewed as Weaknesses
The first thing experts saw as a weakness with this model is its quality. It's made from cheap parts, which is the main reason why I strongly discourage running on this treadmill. Also, warranty is too short, which makes buying it quite risky.
Recommendation:
If you're just a novice runner and you can only afford an entry level machine, then the Proform 995 SEL treadmill is one of the better low-priced treadmills you can buy in the market right now.
But if you are a serious runner, I don't recommend this model. you'll be better off buying a $1,500 or above machine. However, if you really can't afford that much, then I suggest you see our best recommended treadmill for your price range.
Summary:

Motor: 2.75HP
Running Deck: 55"L x 20"W
Speed: 0 to 10 mph
User Weight Capacity: 250 lbs
Incline: 1.5 to 10%
Foldable: Yes
Warranty: 90 days
Belt Size: 55" x 20"

Features: 

• iFIT.com technologies
• 12 built-in workouts
• EKG2 Pulse ™ Sensor and PulseView™ window 
• 8 weeks to a better body program 
• Custom Cushioning™ System 
• 2-lb. ErgoGrip™ Hand Weights 
• Power Incline®

---
Where to Buy?

If you plan on buying a Proform 995 SEL treadmill, I suggest you buy it at Proform.com. They offer the cheapest price around the net. You can get it for just $689.

(opens new window)
---
Return from Proform 995 SEL Treadmill to Proform Treadmills
---