Proform 930i Treadmill Reviews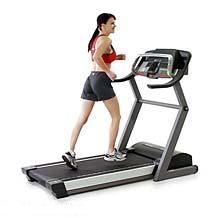 Proform 930i Treadmill Reviews
The Proform 930i treadmill is one of the better treadmills from Proform.
Compared to other Proform models, this one comes with better motor and electronics. But just like other Proform machines, it still lacks the quality to really be noticed in the price range it's in.
Should You Buy Treadmills Like This?

This treadmill is perfect for walkers and joggers. But due to its poor quality, it would be best to avoid doing any intense workouts on it. So If you're serious about running then this model is not for you. I suggest you visit our best recommended treadmill page and choose a treadmill in the $1,500 and above price range.
Features and Benefits
This machine offers a 2.0 CHP commercial grade motor. It has the ability to sustain speeds of up to 12 miles per hour and can be elevated for up to 10%. But once again, bacause of its low quality, you shouldn't maximize this machine's capabilities.
Update: This treadmill has been discontinued.

As an alternative, you might want to visit our best treadmill page to look for similar treadmills that we recommend.
The 20" x 55" tread belt comes with ProTech™ cushioning, which contains impact isolators that absorb the impact of each stride to cut stress on your joints and provide a more comfortable workout
The Proform 930i treadmill is compatible with iFIT.com technologies, which provides you with motivation, coaching and fitness personalization. But it also has 10 built-in workouts if all these iFit features are confusing you and you want to start immediately.
If you want to exercise in your target heart zone, this treadmill has an EKG Pulse™ Sensor which you simply grip. Then, just view your heart rate through the console.
The 5-window LED/7x10 matrix console shows feedbacks on your workout including your speed, pace, time, distance, incline, pulse and calories burned so you'll always know those information important to you.
It also has a built-in two-speed CoolAir™ workout fan. This fan creates currents of 4-6 mph, the ideal range for body cooling. It keeps you cool and fresh especially during those long, grueling workouts.
Weaknesses
Proform used cheap parts in manufacturing this treadmill which is the reason why it comes with such low quality. The short 90 day warranty alone proves that this treadmill won't be useful for very long.
Recommendation:
I wouldn't recommend the Proform 930i treadmill if you have the money to buy a higher priced treadmill. However, if you can only afford an entry level treadmill, then this is one of the better low-priced treadmills you can buy.
Summary:

Motor: 2.0 CHP

Running Deck: 55"L x 20"W

Speed: 0 to 12 mph

User Weight Capacity: 250 lbs

Incline: 0 to 10%

Foldable: Yes

Features: 


• iFit.com compatible
• 10 built-in workouts
• EKG Pulse™ Sensor and PulseView™ window 
• CoolAir™ workout fan
• ProTech™ Cushioning
• QuickSpeed™ control 
• Power Incline™ 
• 5-window LED/7x10 matrix console

---
Where to Buy?

If you plan on buying a Proform 930i treadmill, I suggest you buy it at amazon. They offer the cheapest price around the net. You can get it for just $899.

Click here to visit the website and learn more
(opens new window)
---
Return from Proform 930i Treadmill to Proform Treadmills
---