Proform 675E Treadmill Review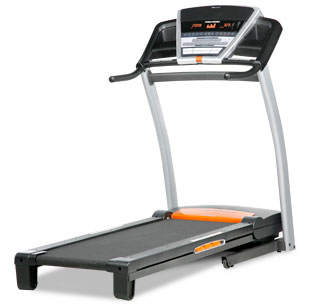 The Proform 675E treadmill is another beautiful yet very affordable treadmill from Proform this year.
And just like other Proforms, this one also comes with cheap parts and poor quality. So don't expect this machine to be problem-free for very long.
Is It for You?
If you're looking for an entry level treadmill that comes with beautiful design, then the Proform 675E might be the one you're looking for.
However, due to its poor quality I wouldn't recommend running on it. If you are a serious runner, then I suggest you visit our best buy treadmills page and look for a treadmill in the $1,500 or above price range.
What You'll Get
The Proform 675E comes with a 2.8 hp motor. This motor power is good only for walking or very light jogging. It has a max speed of 10mph and a max incline of 10%. And with the QuickSpeed™ and QuickIncline™ features adjusting the intensity of your workouts become so much easier.
The 20" X 55" walking surface provides enough room for you to move comfortably while doing your exercise. While the TreadSoft Max™ cushioning minimizes injury by absorbing the impact of your strides.
There is also a bright orange 3-window LED display on the console that shows you important information regarding your workout. This console also features the Intermix Acoustics™ 2.0 sound system that is iPod and MP3 compatible so you can listen to your favorite music while working out.
Other features include the 10 QuickSelect™ workouts where you can easily choose the exercise that you want with just a push of a button, dual grip EKG heart rate monitor for people who loves heart rate workouts, and the SpaceSaver® feature which folds the treadmill vertically so you can easily store it after use.
And finally, the Proform 675E offers a 20 years motor warranty and a 1 year warranty for parts and labor. These warranties are a little better than what Proform normally gives but they are still not good enough compared to other quality treadmills in this price range.
Weakness
The main weakness of this machine is its poor quality. Don't be fooled by its pretty looks on the outside because cheap parts were used in manufacturing this machine. Therefore, I believe it is only a matter of time before you would need to have it repaired over and over again.
Recommendation
I don't recommend the Proform 675E treadmill due to its poor quality. If you really want an affordable treadmill with beautiful design, you would be better off buying one of our $500-$1,000 best buy treadmills. They offer better value for your money and comes with way better quality than this model.
Summary:


Cost: $609

Motor: 2.8HP motor

Speed: up to 10 mph

Incline: up to 10%

Warranty: 20 years motor, 1 year parts and labor

Belt Size: 55" x 20"

Foldable: Yes

Heart Rate: Yes

Features: 


• Orange 3 Window LED Display 


• QuickSpeed™ and QuickIncline™ Control 


• 10 QuickSelect™ Workouts


• Intermix Acoustics™ 2.0


• TreadSoft Max™ Cushioning


• SpaceSaver® Folding


• Dual Grip EKG Heart Rate Monitor

Where to Buy?


If you plan on buying a Proform 675E treadmill, I suggest you buy directly from the company through proform. They offer the best price around the net. You can get it for just $609.


Click here to visit the Proform website and learn more


---
(Once again, if you plan on buying this machine I suggest you buy from Amazon)

Click here to visit the website
---
Return from Proform 675E Treadmill to Proform Treadmills
---