Precor M9.27 Treadmill Review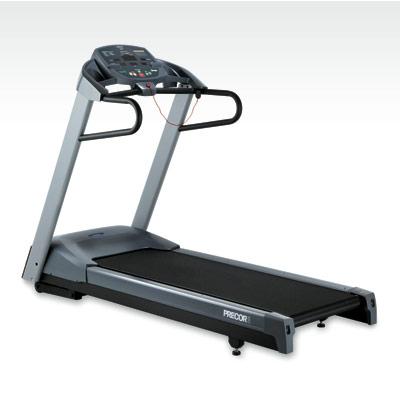 Precor M9.27 Treadmill

The Precor M9.27 treadmill is the second of the two lower priced Precor treadmills that came out this 2006. It is $300 more expensive than the Precor M9.23 but it comes with heart rate features and more workout programs.
Is This the Best Treadmill for You?
If you're looking for an affordable Precor treadmill with decent features, then this is the model for you. The heart rate feature and numerous workout programs make the M9.27 more attractive compared to the basic Precor M9.23.
What This Treadmill Offers
This Precor comes with a powerful 3.0HP continuous duty motor that has a max speed of 12mph and a max incline of 15% (in .5% incrememnts). With this motor, you can have intense workouts no matter what fitness level you're in.
The 57" x 20" tread belt is long and wide to give you more room to workout comfortably. Plus, the Ground Effects® Impact Control System cushions impact and stabilize lateral movement. It eases wear and tear on your knees, legs, and back, increasing comfort and minimizing fatigue for a longer, healthier run.
The QuickStart feature jump-starts your exercise routine with a push of a button. While the safety-clip feature immediately stops the machine during your run, if needed, for added assurance.
The 11 workout programs give you the variety and flexibility you'll need to see results. And if you like to workout in your target heart rate zone for a more efficient exercise, you can choose any of the 2 heart rate programs included in this machine and workout with the help of this machine's SmartRate® and heart rate telemetry.
And finally, like other Precor treadmills this one also features 10 years of worry-free warranty. That means 10 years warranty for everything which is better than the industry standards.
Weaknesses?
The biggest weakness of this Precor is the value it provides. Treadmills from other companies in this price range offer way better specs and features compared to this model. (see our Best Buy Treadmills page)
Recommendation
To conclude, I would not recommend the Precor M9.27 treadmill. There are other treadmills out there that would give you more value for your money. (visit our Best Buy Treadmills page) But if you really want a precor, , I suggest you settle for nothing less than the Precor M9.31 treadmill.
Summary:

Cost: $2,499

Motor: 3.0HP continuous motor

Running Deck: 57"L x 20"W

Speed: 0.5 to 12 mph

User Weight Capacity: 300 lbs

Incline: up to 15%

Warranty: 10 Years

Heart Rate: Yes

Features: 



• QuickStart™ 


• 11 total programmed workouts (including 2 HR workouts)


• Ground Effects® Impact Control System


• Heart Rate Telemetry


• SmartRate®

---
Where to Buy?

If you plan on buying a Precor M9.27 treadmill, I suggest you find a local dealer through Precor. You can get it for just $2,499.00. As an alternative, you might also want to check if this Precor is still available at Amazon.

Click here to visit Amazon
(opens new window)
---
(Once again, if you plan on buying this machine I suggest you buy from Amazon.)

Click here to visit Amazon
---
Return from Precor M9.27 Treadmill to Precor Treadmills
---