Precor 9.31 Treadmill Review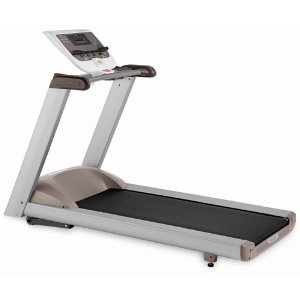 The Precor 9.31 treadmill is arguably the best Precor treadmill in the market today in terms of providing value.
However, you may have to pay a little extra because of its well known brand but you won't regret it since it is one of the most well built treadmills below $4,000.
Is This for You?
If you have $4,000 to spare for a treadmill, then you should really consider getting the Precor 9.31. It may not have all the features offered by other brands but one thing it boasts is its excellent quality which is unmatched in its price range. However, if $4,000 is beyond your budget then I suggest you visit our best buy treadmills page to look for an alternative in your price range.
What You'll Get
The Precor 9.31 treadmill runs cool and quiet with a powerful 3.0 continuous duty motor. This motor provides substantial power and torque at all speeds. It can reach speeds of up to 12mph and can be inclined for up to 15% to satisfy even the hardcore runners.
The 22" x 56" tread belt may not offer the biggest running surface in the market but it will be more than enough for most people to have a comfortable run. Plus it comes with the Ground Effects® Impact Control System which cushions impact and stabilizes lateral movement. It eases wear and tear on your knees, legs, and back, increasing comfort and minimizing fatigue for a longer, healthier run.
This multi-ply running belt is made up of phenolic laminate deck and is bonded to an exceptionally sturdy 1-inch board. It doesn't require any lubrication and can be reversed to double life.
Like other Precors, this one also comes with the Integrated FootplantTM Technology. What it does is it adjust the belt speed to your foot speed to create a more natural feel by keeping you balanced and in control of your pace.
There are 8 pre-set programs included in the Precor 9.31 to give you the variety you need to enjoy your exercise. These programs include a 1-mile, 10k course, 5k course, 1 heart rate (touch and wireless chest strap included), 1 interval, 1 manual, 1 random, and 1 weight loss workout.
The magnetic safety key as well as the stop button feature of this Precor treadmill immediately turns off power when activated, for added assurance. While password protection was included to ensure that the machine can be locked and unlocked at your discretion.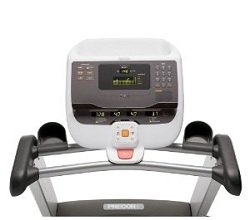 The intuitive console comes with a unique workout log and personal best tracker to keep you motivated during your workouts. There is also an options menu button that allows you to customize your workouts by viewing additional metrics, entering weight and age or selecting the goal you're striving for.
Other features include SmartRate®, which shows your heart rate in relation to your target zone when using the wireless heart rate monitor. There is also an accessory holder for water bottles, portable music, reading materials, etc. And a QuickStart feature which allows you to immediately begin a workout with a touch of a button.
And finally, the Precor 9.31 comes with lifetime warranty for frames and weld, 10 years for parts and wear items and 1 year for labor. These are good warranties but definitely not the best.
Weaknesses?
The only weakness I see with the Precor 9.31 treadmill is that its features are too basic considering it is a $3,000 machine. But that is to be expected with most Precors, since they are known more for their quality than their features.
Recommendation
I highly recommend the Precor 9.31 treadmill to hardcore runners who can afford it. It is simply one of the best home treadmills below $4,000. However, if the price tag is beyond what you can afford, then I suggest you visit our best buy treadmills page to look for other quality treadmills within your budget.
Summary:

Cost: $3,999.00

Motor: 3.0HP continuous duty motor

Speed: 0.5 to 12 mph

Incline: up to 15%

Belt Size: 22" x 56"

Weight: 335 lbs

Electrical Requirement: 120 VAC

Features: 
• QuickStart™ 
• Reversible Deck 
• 8 total pre-set workouts
• Integrated Footplant Technology 
• Ground Effects® Impact Control System
• Password Protection
• Accessory Holder
• SmartRate®
• Intuitive Console

---
Where to Buy?

If you plan on buying a Precor 9.31 treadmill, I suggest you buy it from Amazon.com. They offer the cheapest prices around the net. You can get it for just $3,999.00. Just use the search box provided to the right and look for the term "Precor 9.31 Treadmill".

---


Once again, if you plan on buying this machine I suggest you buy from Amazon. Just use the search box to the right and put the words "Precor 9.31 Treadmill".

---
Return from Precor 9.31 Treadmillto Precor Treadmills
---