Precor 9.23 Treadmill Review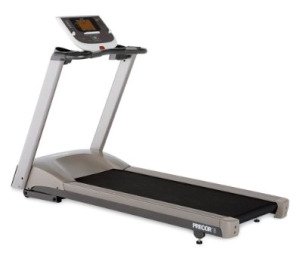 Precor 9.23 Treadmill Reviews
The Precor 9.23 treadmill is a low-impact exercising machine built to accommodate cardio workouts and weight loss programs. Designed with Ground Effects Impact Control System and all the basic features you would expect, this treadmill is perfect for experienced runners or beginning ones who wish to train better.
Although this is the entry-level treadmill from Precor, it is still designed with the same renowned quality and advanced features that Precor is famous for.
Is It for You?

Although this is currently Precor's most affordable treadmill, it is still quite pricey. If you have the budget to spare, the Precor 9.23 treadmill should be a good investment as it is designed to accommodate even the most demanding runs and training for experienced runners.
What You'll Get:
The Precor 9.23 treadmill features high-technology designs that provide great results. First off, its 3.0 continuous duty DC motor provides the right amount of power, control, and torque you need when working out – no matter what how fast you stride or run on your treadmill. Plus, its motor comes with a cooling fan that prevents the machine from overheating, providing high quality and reliable performance.
The Ground Effects Impact Control System of the treadmill and its wide treadbelt, measuring 20" x 57", give a comfortable and trouble-free area for walking, striding, or running. Unlike other treadmills that require cleaning and maintenance on a regular basis, the Precor 9.23 machine even comes with a self-lubrication deck system that makes it really low maintenance.

Built with heart rate monitoring, you can easily track and gauge your heart rate every time you exercise. Designed with quick keys, easy programming, and clear labels, the display is very simple to use and will definitely help you achieve your workout goals.
The electronic reading display, on the other hand, shows important workout statistics including speed, time, incline, calories burned, distance, pace, and the profile being used.
Adjust the speed of your machine up to 12 miles per hour and its incline up to 15%. This gives its users – whether a beginner or an expert – the flexibility they need for a light jog or an intense run.
Another great addition to the Precor 9.23 treadmill is its emergency stop feature. It is composed of a magnetic safely clip that instantly stops the machine and turns its power off once it has been detached. This is a safety feature built and intended to prevent accidents.
Weaknesses:
The 9.23 treadmill does not come with a side handrail that might be considered a safety risk for some users. Also, the running deck length of 57 inches is a little short considering some treadmills in this price range are already offering 60 inches.
Recommendations:
The Precor 9.23 is a great bargain for just $1,600. I highly recommend buying this machine if you are looking in this price range. It offers excellent value for your money that is simply without comparison. (See also our best buy treadmills page for other treadmills that we recommend)
Summary:

Price: $1,599

Motor: 3.0 horsepower continuous duty DC motor

Speed: 0.5 to 12 mph

Deck Size: 20" x 57"

Incline: 0-15%

Folding: No

Heart rate Monitor: Yes

Maximum Capacity: 350 lbs. maximum user weight

Warranty: Lifetime on frame; 5 years for parts; 1 year for labor




Features:

•Lift motor generates up to 700 lbs thrust
• 6 workout programs
• Ground Effects Impact Control System
• Phenolic laminated deck that is reversible
• Stride Support
• Magnetic Safety Clip
• Accessory holder
---
Where to Buy?

If you plan on buying a Precor 9.23, I suggest you buy it from Amazon.com. They offer the cheapest prices around the net. You can get it for just $1,599.00. Just do a search for " Precor 9.23 Treadmill" using the search box to the right.

Due to the high amounts of orders for this treadmill, this machine is usually out of stocks. As an alternative, you might want to visit our best buy treadmills page for other treadmills we recommend.
---


Once again, if you plan on buying this machine I suggest you buy from Amazon.com. Search for the term "Precor 9.23 Treadmill" using the search box provided.

---
Return from Precor 9.23 Treadmill to Precor Treadmills
---