PaceMaster Platinum Pro Treadmill Review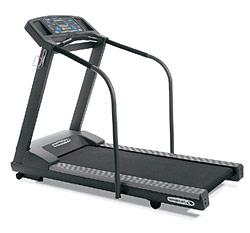 PaceMaster Platinum Pro Treadmill

The Pacemaster Platinum Pro treadmill is the company's top of the line treadmill model.
It has the best features and electronics of all Pacemasters. It is also the only model in Pacemaster's premium line to provide e-courses.
Is It for You?

This machine is perfect for hardcore runners. However, the only difference between this unit and the Gold Elite is the improved eletronics and the new E-courses. So if you think you don't need these extra features, then I suggest you save yourself $200 and buy the cheaper Gold Elite.
What You'll Get
The 3.0 HP continuous duty McMillan motor offers you excellent power. It has a speed range of 0.5 to 12 mph and an incline range of 0% to 15%, adjustable in 0.5% increments. These guarantee that even the most serious of runners will get an intense workout.
Pacemaster used a 2 ply stretch resistant Texglide tread belt for this machine, which is rated for 10,000 miles. Ensuring a maintenance free, high quality belt for a very long time.
The 20" x 60" running deck gives you enough room to move and be comfortable during your exercise. At the same time, this deck is made up of custom designed, medium density fiberboard with phenolic surface. (Phenolic helps keep the deck lubricated to extends its life)
The Tri-Flex Impact Shock Management System gives PaceMaster Platinum Pro treadmill users maximum shock absorption. This cushions impact on the ankles, knees, hips and backs which is perfect for those coming off an injury and those trying to prevent one from happening.
The 3 custom programs, 5 heart rate programs, and 7 workout programs with 9 levels of intensity, were included to give you more workout flexibility and variety. While the 4 user ID's and fitness evaluation allow for a more personalized run.
The express speed key and express incline key is perfect for those looking to do interval training. These keys enable you to easily change the speed or incline of your workout as fast as possible.
And finally, as mentioned above, this machine comes with 4 e-courses.(Lombard Street, Steeple Chase, Appalachian Trail, Summit Climb) Each of these courses imitate what a workout would be like if you running outside.
Warranties
This Pace Master offers a lifetime warranty for its frame, 12 years for the drive motor, 5 years for parts and a year for labor. These simply show just how much the company fully supports their product.
Weakness
It is certainly hard to find a weakness for this treadmill. The bigger and wider frame of this machine addressed the frame/ weight issue some people had with lower priced Pacemasters.
Recommendation
I recommend the PaceMaster Platinum Pro treadmill. However, if you don't need the improved electronics and extra e-courses, I suggest you stick with the Gold Elite and save yourself $200.
Also, you might want to visit our best buy treadmills page for other alternatives. This is where you'll find all the top treadmills categorized by price.
Summary:

Motor: 3.0 HP continuous duty motor

Running Deck: 20"L x 60"W

Speed: 0.5 to 12 mph

User Weight Capacity: 4000 lbs

Incline: 0 to 15%

Warranty: Lifetime frame, 12 years motor, 5 years parts, 1 year service

Foldable: No

Heart Rate: Yes

Electrical Requirements: 120 VAC




Features: 
• Three 0.56" tall LEDs and Two 0.80" tall LEDs
• Tri-Flex Impact Shock Management System
• Automatic Warm-Up/Cool-Down
• 3 custom and 5 heart rate programs 
• 7 Workout Programs with 9 intensity levels each
• Quick Start and Manual Program Options
• 2.5" Precision Ground Steel Rollers
• Stretch Resistant 2 ply Texglide Belt
• 1000 lb. Thrust Elevation Motor
• Dual Microprocessor Digital Control System to control the motor
• 12 X 15 Multi-Color Dot Matrix Console
• Express Speed Key
• Express Incline Key
• 4 Uder ID's
• Fitness Evaluation
• 4 E-Courses

---
Where to Buy?

I'm currently having a hard time locating an internet retailer carrying the PaceMaster Platinum Pro treadmill, so for now, I suggest you locate a dealer near you through PaceMaster. It is being sold for just $2,299.
---
Return from PaceMaster Platinum Pro Treadmill to Pacemaster Treadmills
---