Nordic Track X11i Incline Trainer Review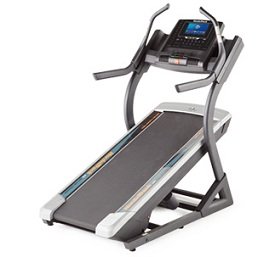 Created to be an ultimate exercising machine, the Nordic Track X11i incline trainer promises that you will burn 5 times the calories just by walking. Although I don't believe this claim since they did not provide any evidence, I still believe that this machine is one of the best in the market right now at its price.
With Nordic Track, the best just keeps getting better. This advanced treadmill model, which they prefer to call an incline trainer, features superior quality parts, high-powered performance, an extremely wide running surface, and cool features that you couldn't find in other treadmill brands or models.
Is It For You?
If what you want is not just an ordinary treadmill, get the Nordic Track X11i incline trainer that provides greater performance and higher resistance, thus allowing you to reach your target fitness goals faster. While this model is not precisely cheap, if you have the budget, it's worth getting.
What You'll Get:
Designed to take even the most rigorous workout sessions, the Nordic Track X11i incline trainer features a heavy-duty 4.0 CHP DurX™ commercial pro motor that delivers strong power, smooth performance, and quiet operation. Combined with a wide commercial tread belt that measures 20" x 62", the incline trainer gives you enough surface to perform in, while providing a smooth, comfortable run.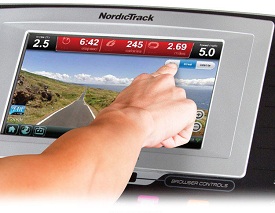 The incline trainer features a 1-touch speed and incline/decline controls that let you easily adjust the performance of your machine. While most treadmills offer only up to 15% incline, the Nordic Track incline trainer can allow you to accelerate your training up to 40% incline and -6% decline, which can be translated to burning more calories. Integrated with the iFit® Technology which aims to display realistic training to your program, your usual incline training can be transformed to hiking any trail in the world.
The machine is also designed with a Reflex™ Cushioning system that provides smooth and comfortable run, reducing tension and impact on joints, ankles, and back. Moreover, it comes with 2 Autobreeze™ workout fans which will keep you cool and cozy even during extensive workouts.
Monitor and track your progress with the Racetrack display. It shows you important statistics of your training including your speed, time elapsed, distance, calories burned, and heart rate. With the help of the Cardiogrip™ heart rate monitor with wireless chest pulse, you can identify your heart rate and whether or not you are reaching your target rate zone. The heart rate sensors are built right into the handlebars that automatically measure your pulse when you're holding them.


Get the training you want or train according to your objective with a wide selection of built-in workout apps. Choose from 44 pre-set programs that are designed to help you lose calories, enhance strength, or tone muscles. Plus, with the preset iFit® workouts, you may even train with Jillian Michaels, do workouts Powered by Google Maps™, or perform event training.
Weaknesses:
While this could be the best incline trainer that you can have from NordicTrack, you might complain about some glitches with the Android interface. Other than this, The X11i incline trainer should be the perfect exercising tool for you and your fitness needs.
Recommendations:
Tired of the usual treadmill workout? For change, you may want to get the Nordic Track X11i incline trainer which will take you to an all new level. It may not be able to burn 5 time the calories, but with the increased in incline, you are definitely in for a more extensive and powerful performance.
Summary:
Cost: $2,299
Speed Range: 0 to 12 mph
Incline Range: -6 to 40%
Power: 4.0 CHP
Dimensions: 73"" L X 38"" W X 69"" H
Maximum Capacity: 400lbs (136 kg)
Warranty: 3 years on labor; 5 years on parts and electronics; lifetime on the motor, deck, and frame
Features:
• 4.0 CHP DurX™ commercial pro motor
• 20" x 62" 2-Ply Commercial Belt
• Reflex Cushioning
• Set-a-Goal Workout Center
• iFit Ready
• CardioGrip Heart Rate Monitoring
• Wireless Chest Strap Heart Rate Monitoring
• 2 AutoBreeze Workout Fans
• 44 Workout Programs
• iPod Port
• Racetrack Display


---
Where to Buy Nordic Track X11i Incline Trainer?
If you plan on buying a Nordic Track X11i Incline Trainer, I suggest you buy from nordictrack. They offer the best price around the net. You can get it for just $2,299. 

Click here to visit Nordic Track and learn more

---
Return from Nordic Track X11i Incline Trainer to Nordic Track Treadmills

---
---
---
(Once again, if you plan on buying this machine I suggest you buy from nordictrack.)

Click here to visit Nordic Track and learn more