Nordic Track Elite 9700 Pro Treadmill Review
Nordic Track Elite 9700 Pro Treadmill
Nordic Track has always been consistent in creating quality and reliable treadmills for home or office use, and the Nordic Track Elite 9700 Pro is no exception. If you are looking for a great treadmill designed with excellent features at a relatively reasonable price, then this machine is ideal for you.
An upgrade from the Elite 9500 Pro, the Elite 9700 Pro treadmill is a heavy-duty machine that runs quietly and smoothly, providing users with a very comfortable running experience. Equipped with winning treadmill features and the latest technology, you just won't look for anything else!
Is It For You?
If you are looking for a treadmill that offers stunning performance, wide running area, and maximum cushioning, and you have the budget to spend, the Nordic Track Elite 9700 Pro treadmill is a good investment. It is ideal for both beginners and experienced runners who like to run securely at home or in the office.
What You'll Get:
The Elite 9700 is designed with the latest technology in treadmill industry. For one, a strong and heavy-duty motor is what powers this exercise machine. With a 4.25 continuous horsepower DurX™ Commercial Pro Motor, the treadmill can take on any workout level at any training schedule. This powerful motor, together with the machine's built-in integrated belt drive, sets the performance standard for the user's training specs.
Designed with a wide tread belt, the machine provides a smooth and comfortable run. Measuring 22" by 60", this 2-ply tread belt is made to endure the most rigorous workout.  No matter how fast you go, the belt is designed to grip your foot and move with you for a more natural and comfortable run.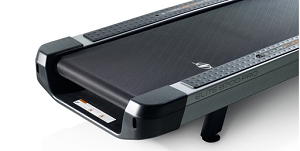 To add more comfort to its users, the machine features a QuadFlex™ Precision Calibration Cushioning system that is made specifically to provide ease and joint protection. The cushioning adjusts accordingly to the level of the runner's workout and absorbs impact, thus, allowing a longer, harder training session with no injuries at all.
The world's most advanced fitness technology, the iFit® Technology, is also present in the Nordic Track Elite 9700 Pro treadmill. This feature provides users with a variety of workout sessions, including training with Jillian Michaels and choosing different workout routes by Google Maps™.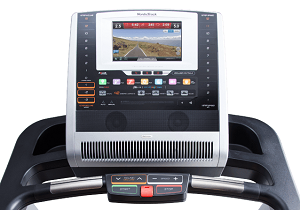 Other cool features of the Elite 9700 machine includes HD video workouts, heart rate monitor, wireless chest pulse strap, incline, decline, and other surprises that you need to discover for yourself.
Weakness:
A user-defined programming workout feature that is available in most $2,000 treadmills is not available in this model of the Nordic Track treadmill. Also, customer service for Nordic Tracks are below industry standards.
Recommendations:
If you have the budget to spare, get the Nordic Track Elite 9700 Pro treadmill for its high performance and heavy-duty-heavy make. It is designed to withstand the most rigorous workouts. So if you want an exercise machine that is built to last almost a lifetime, this is what you should get.
Summary:
Price: $2,199
Motor: 4.25 Continuous Horsepower DurX™ Commercial Pro Motor
Frame: Extra-Heavy Gauge Steel Welded
Tread Belt: 22" X 60" 2-Ply Tread Belt
Speed: 0-12 MPH
Incline: -3 to 15%
Dimensions: 79.5" L x 37.75" W x 71.5" H
Max User Weight: 400 lbs.
Warranty: Lifetime Frame, Motor & Deck Warranty; 6-Year Parts & Electronics Warranty; 3-Year Labor Warranty
Features:
4.25 CHP Motor
22" x 60" Tread Belt
Heart Rate Monitor
Precision Calibration Cushioning
0-12 MPH Speed
0-15% Incline
-3-0% Decline
Wireless Chest Pulse Strap
3" Rear Roller
---
Where to Buy 

Nordic Track Elite 9700 Pro

?
If you plan on buying a  Nordic Track Elite 9700 Pro treadmill, I suggest you buy from Nordictrack. They are currently offering this machine for $2,199.


Click here to visit Nordic Track and learn more
Return from Nordic Track Elite 9700 Pro Treadmill to Nordic Track Treadmills

---
---
---
(Once again, if you plan on buying this machine I suggest you buy from nordictrack.)

Click here to visit Nordic Track and learn more