Nordic Track Elite 7500 Treadmill Review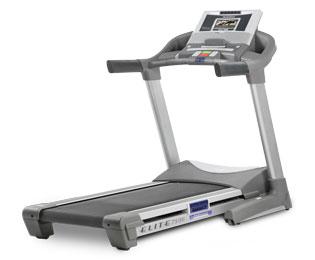 Nordic Track Elite 7500 Treadmill

The Nordic Track Elite 7500 treadmill is a bargain at its current sale price of $1,199.
And at that price, this is probably the cheape st treadmill on the market today that comes with its own flat screen TV.
Is This for You?
If you've always wanted a quality treadmill that comes with its own TV but can't really afford them (most cost $2,000 or more), then the Nordic Track Elite 7500 might be of interest to you. It is probably the cheapest treadmill right now that has its own TV (although, smaller than what other treadmills are offering). And, it also comes with a powerful motor, big running area and numerous features. So overall, this is another Nordic Track worth considering.
What You'll Be Getting
The Nordic Track Elite 7500 boasts of a 3.5 continuous duty horse power Dura drive motor which can reach speeds of up to 12 mph and inclines for up to 12%. And with the 1-touch speed and 1-touch incline controls, changing the intensity of your workout becomes so much easier and faster.
This machine features the popular iFIT® workout card technology. When you plug it in the console, you'll workout as if you have a personal trainer beside you talking to you and encouraging you. It automatically controls the speed, incline and duration of your workout depending on your personal goals.
And if that's not enough, this machine also comes with 35 workout programs for added variety. These include 15 personal trainer workouts, 4 event training workouts, 4 heart rate workouts (comes with Polar® wireless heart rate monitor), 8 calorie burn workouts and 4 Create and Save™ workouts.
The 20" x 60" tread belt offers enough room for you to run comfortably without feeling confined. Plus, it comes with DuraSoft Advanced™ cushioning which was proven to help reduce impact on your joints for up to 33% compared to running outside. And the good thing about it is that it is adjustable so you can alter the cushioning to your liking.
As I mentioned above, this treadmill comes with its own flat screen TV. You'll get a 7inch television with multi colored on screen display where you can watch your favorite shows and keep track of your workout progress. Please take note that this 7 inch TV may not be big enough for some people to really enjoy watching on it but remember that you're getting a quality treadmill for less than $1,300 so this added feature is better than nothing.
Other features include the Intermix Acoustics™ sound system with high-end speaker and subwoofer so you can enjoy listeing to music while you exercise.SpaceSaver® feature to fold the treadmill for easy storage when not in use, and the CoolAir™ workout fan to keep you fresh especially during those long workouts.
And finally, the Nordic Track Elite 7500 treadmill comes with a 15 years motor warranty, 5 years parts warranty and a 1 year service warranty. These warranties are definitely shorter than what most treadmills in this price range offer.
Weakness
The biggest fallback of this Nordic Tracks treadmill is its poor service and short warranties. Nordic has a reputation of poor after sales service so when something goes wrong with this machine expect to have a hard time getting it fix.
Recommendation
I would recommend the Nordic Track Elite 7500 treadmill if you're looking for an affordable treadmill with its own flat screen TV. It provides excellent value for your money and comes with good quality. However, if you're having second thoughts because of its poor service or short warranties, then I suggest you visit our best buy treadmills page to compare it to other quality treadmills before making a decision.
Summary:

Cost: $1,199
Motor: 3.5HP continuous motor
Speed: up to 12 mph
Maximum User Weight: 350 lbs
Incline: up to 12%
Warranty: 15 years motor, 5 years parts and, 1 year labor
Belt Size: 60" x 20"
Foldable: Yes
Heart Rate: Yes
Features:
• 35 Workout Programs
• 7 inch Flat Screen TV
• Intermix Acoustics™
• SpaceSaver®
• DuraSoft™ Adjustable Cushioning
• Polar® Wireless Heart Rate Monitor
• iFIT® Card Technology
• 1-Touch Speed and 1-Touch Incline Controls
• CoolAir™ Workout Fan
---
Where to Buy Nordic Track Elite 7500?

If you plan on buying a Nordic Track Elite 7500 treadmill, I suggest you buy from nordictrack They offer the best price around the net. It is currently on sale for just $1,199.

Click here to visit Nordic Track and learn more
(opens new window)
Return from Nordic Track Elite 7500 Treadmill to Nordic Track Treadmills
---
---
---
(Once again, if you plan on buying this machine I suggest you buy from nordictrack)

Click here to visit Nordic Track and learn more