Nordic Track Commercial 2450 Treadmill Review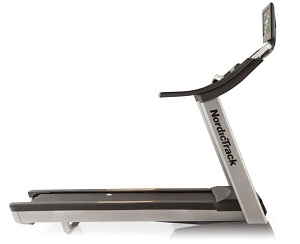 The Nordic Track Commercial 2450 treadmill combines fun with fitness, convenience with technology, and health with luxury.
At first glance, this Nordic model may seem a bit pricey. However, when you closely look into it, you'll realize that its overwhelming number of features provides good value for your money. Not only is it equipped with a powerful motor, wide tread belt, and a great cushioning system, but it even boasts of a 15" integrated HD TV, 10" full-color capacitive touch display, iFit compatible, and music port for iPod just to name a few.
The possibilities are just endless with the Commercial 2450 treadmill – not only in working out, but in having fun, as well.
Is It For You?
If you want quality, technology, and entertainment all in one exercising machine, then the Nordic Commercial 2450 treadmill is definitely for you, especially if you have extra cash to spare.
What You'll Get:
With its countless features, you just wouldn't know how and where to start with the Nordic Track Commercial 2450 treadmill. Manufactured with a whopping 4.2 CHP Durx™ commercial pro motor, this machine is built to accommodate the toughest and most rigorous workout sessions. Featuring a heavy-duty drive system, it delivers smooth, quiet, and powerful run, no matter how fast the speed or how high the intensity is.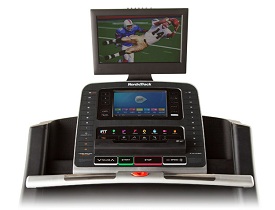 Experience a truly comfortable run with the machine's Runners Flex™ adjustable deck cushioning system.Turn it on for complete comfort and full-length suspension, or turn it off for a run that stimulates the ground. Either way, its superior cushioning system is designed to reduce impact and stress on your joints.
Want to truly enjoy your workout? Experience fun and entertainment with the treadmill's built-in 15-inch integrated high-definition TV. With this incredible technology, you can channel your energy and replace tension with complete relaxation while working the body and sweating it out. It is perfectly positioned at eye level and above the touch display, so it does not interfere with your workout.
The machine also comes with a goal training center that allows you to set your distance, time, or calorie target. It then adjusts your speed and inclines to allow you to reach your goal. This feature will definitely help you achieve your target weight and figure in no time!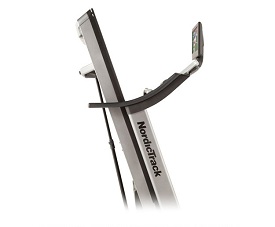 Other features to look forward to in the Commercial 2450 treadmill include Cardiogrip™ heart rate monitor with Polar® wireless chest pulse, iFit® compatible, 10-inch full-color capacitive touch display, 8-inch Autobreeze™ workout fan, music port for iPod, and Spacesaver® design with Easylift™assist among many others.
Weaknesses:
So far I can't see any weakness in this machine. If any users/owners have any complaints about this machine please feel free to leave a comment below.
Recommendations:
If you plan to invest in a truly reliable machine that provides you with the power, fun, and entertainment that you need, the Nordic Track Commercial 2450 treadmill is definitely a must-have. Especially if you are an experienced runner who wishes to train for extended period of hours, you will never get bored of working out with this exercising tool. However, if paying $2,000 for a treadmill is beyond your budget, then I suggest you visit our best buy treadmills page.
Summary:
Cost: $1,999
Speed Range: 0 to 12 mph
Incline Range: -3 to 15%
Power: 4.2 CHP
Dimensions: 82.1" L x 36.6" W x 72.2" H
Maximum Capacity: 400lbs (136 kg)
Warranty: 2 years on labor; 5 years on parts and electronics; lifetime on deck, motor, and frame
Features:
• 4.2 CHP Durx™ Commercial Pro Motor
• 20" x 60" Non-Stretch, 2-ply Commercial Belt
• Runners Flex Cushioning
• 15-inch Integrated HD TV
• Goal Training Center
• iFit Compatibility
• 40 Preset Workout Apps
• Google Android Browser
• National Geographic HD Video Workouts
• EKG Grip Pulse and Wireless Chest Strap
• 10-inch Touch Display
• 8-inch Autobreeze™ Workout Fan
• Compatible Music Port for iPod
• Spacesaver® Design with Easylift™ Assists


---
Where to Buy?

If you plan on buying a Nordic Track Commercial 2450 treadmill, I suggest you buy from nordictrack. They offer the best price around the net. You can get it for just $1,999.

Click here to visit Nordic Track and learn more

---
Return from Nordic Track Commercial 2450 Treadmill to Nordic Track Treadmills

---
---
(Once again, if you plan on buying this machine I suggest you buy from nordictrack)

Click here to visit Nordic Track and learn more