Nordic Track C900 Pro Treadmill Review
The Nordic Track C900 Pro treadmill is a reliable treadmill with overwhelming features for less than a thousand bucks.
At $999, the C900 Pro treadmill boasts of a lot of exciting features that can be found in higher, more advanced models of other brands, such as Quadflex™ cushioning system, iFit® Compatible, Cardiogrip™ heart rate monitor with wireless chest pulse, Autobreeze™ workout fan, and a lot more. Plus, with a 3.0 CHP motor, expect a powerful performance to match the intensity of your workouts.
Is It For You?
For beginners and leisure runners, the Nordic C900 Protreadmii is a good choice. Equipped with lots of interesting features, you will never get bored sweating and working out. If you are looking for a good workout machine without planning to spend so much, the C900 Pro is definitely a must buy.
What You'll Get:
The Nordic Track C900 Pro treadmill's powerful 3.0 CHP Durx™ commercial motor brings a smooth, quiet, yet incredible performance. Designed to withstand demanding workouts and long runs, the machine's drive system does not produce any irritating noise.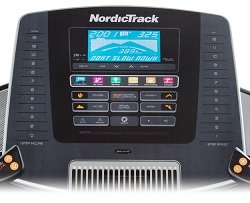 Featuring a Quadflex™ cushioning system, the C900 Pro treadmill has four sets of cushioning that provides utmost comfort and security in every stride. They reduce impact on joints, prevent muscle tension, and relieve pressure on the knees and even the back of the body. With this incredible feature, you will be surprised to perform better, faster, and more effective.
Add more ease in your workouts with the in-handle 1-Touch™ controls. Adjust speed and incline of the treadmill by simply pressing the in-handle controls conveniently designed in the handlebars of the machine.
Unlike other models which are built with 24 to 28 workout programs only, the C900 Pro treadmill offers up to 32 built-in workout apps. Eliminate monotony on your exercises as you have a wide selection of training programs to choose from. Whether your objective is to burn calories or improve speed and agility, you definitely have the right track for it.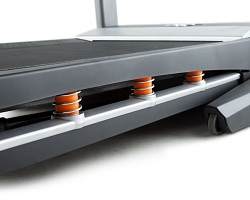 Other features to look forward to from this Nordic treadmill model include iFit® Compatible, Workouts Powered by Google Maps™, Cardiogrip™ heart rate monitor with wireless chest pulse, Racetrack™ Display, Compatible Music Port for iPod®, Space Saver® folding design, and so much more.
Weaknesses:
The Nordic Track C900 Pro treadmill displays the following warning message that should not be neglected by every user:
WARNING: This product contains one or more chemicals known to the state of California to cause cancer, birth defects or other reproductive harm.
Recommendations:
The affordability of the Nordic Track C900 Pro treadmill, together with all its amazing features, makes it a good choice for an ideal workout machine. If you have limited budget, but want to experience a fun, solid workout, there may be no reason not to get this model. (Visit also our best treadmill page for other quality treadmills we recommend)
Summary:
Cost: $999
Speed Range: 0-12 mph
Incline Range: 0-15%
Power: 3.0 CHP
Dimensions: 81.5" L x 37.2" W x 75.3" H
Maximum Capacity: 350lbs (136 kg)
Warranty: 1 year on labor; 3 years on parts; lifetime on frame and motor
Features:
• 3.0 CHP Durx™ Commercial Motor
• 20" x 60" Walking Belt
• 32 Workout Programs
• 7" Backlit Display
• QuadFlex Cushioning
• iFit Compatible
• Space Saver Folding Treadmill
• CardioGrip Pulse Rate Monitoring
• Wireless Chest Strap Included
• AutoBreeze Workout Fan
• Racetrack Display

---
Where to Buy?

If you plan on buying a Nordic Track C900 Pro treadmill, I suggest you buy from nordictrack.com. They offer the best price around the net. You can get it for just $999.


Click here to visit Nordic Track and learn more

---
(Once again, if you plan on buying this machine I suggest you buy from nordictrack.)


Click here to visit Nordic Track and learn more

---
Return from Nordic Track C900 Pro Treadmill to Nordic Track Treadmills

---
---