Nordic Track 8600 Treadmill Reviews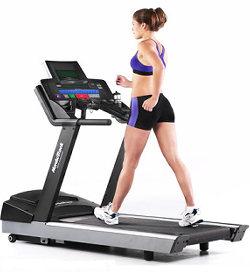 Nordic Track 8600 Treadmill Reviews
The Nordic Track 8600 is definitely Nordic Track's best treadmill yet.
But, as one would expect, this is also the company's most expensive unit.
Not For Everyone?

If you're looking for a commercial treadmill, then this would be one of your better choices. It has everything you'll need in a high quality commercial treadmill.
However, if all you need is a home treadmill then I suggest visiting our best treadmill page and look for a treadmill that fits you best.
Update: This treadmill has been discontinued.

As an alternative, you might want to visit our best treadmill page to look for similar treadmills that we recommend.
Its Benefits...
The Nordic Track 8600 features a 5.0HP commercial grade motor which can reach speeds of up to 12mph. This is powerful enough to satisfy even the most hardcore of runners.
The Power Incline™ feature can elevate from 0-15%. This gives your users the ability to adjust the intensity of their workouts so they would always have a challenging exercise no matter what fitness level they're in.
The Nordic Track 8600 treadmill comes with a 20-in. by 60-in. commercial-grade treadbelt for long, uninhibited strides. Surely, your users will have a more comfortable run with this huge running space.
To help protect your users joints from harmful impact, the Nordic Track 8600 treadmill features DuraSoft Compound™ cushioning. It combines a super-soft foam deck with impact isolators that support the deck above the frame for a more injury-free run.
The CardioGrip™ pulse sensor tracks heart rates to help your users stay in their target heart-rate zone for a more effective workout.
This treadmill also boasts 10 workout programs that keep routines fresh, varied and challenging for faster results and sustained motivation. Plus its iFIT® compatibility allows for a more personalize workout for your users.
Also, the 8 x 30 Club Style Navigator™ Console monitors your users workouts and gives them the ability to easily alter their run.
Weaknesses?
One problem experts saw is that the Nordic Track 8600 treadmill is that it is too heavy. It would be impossible for one person to move this treadmill from one place to another.
Recommendation
I would recommend this model if you're in the market for a commercial treadmill. But if you're not, then this treadmill is not for you. I don't recommend it for home use. You'll be better off buying a premium home treadmill by choosing one of our higher priced best buy treadmills.
Summary:

Motor: 5.0 HP commercial grade motor
Speed: 0 to 12 mph
Incline: up to 15%
Belt Size: 20" x 60" commercial-grade treadbelt
Heart Rate: Yes
Folding: No
Features:
• 8 x 30 Club Style Navigator™ Console
• iFIT® compatible
• DuraSoft Compound™ Cushioning
• Cardio-Grip™ Pulse Sensor
• 10 programmed workouts
• 1 Step™ speed control
• Power Incline™

---
Where to Buy?

If you plan on buying a Nordic Track 8600 treadmill, I suggest you buy it at Nordictrack. You can get it for just $4,195.00.
If you plan on buying this machine I suggest you buy here

Click here to visit Sears' Nordic Track Treadmill Sales page.
Prices for all models starting at USD $599.99
-----------------------------------------------------------
Also consider the NordicTrack Treadmill Accessory Kit
---
Return from Nordic Track 8600 Treadmill to Nordic Track Treadmills
---