Nordic Track 5100R Treadmill Reviews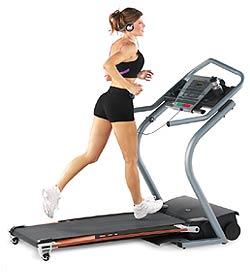 Nordic Track 5100R Treadmill Reviews
The Nordic Track 5100R has the best cushioning of all Nordic Track treadmills.
But just like most of the company's product, this machine's quality is below average.
Is This Treadmill for You?
This treadmill would fit those looking for good cushioning. But due to its lack of quality parts, I don't think serious runner would like this treadmill very much. It won't stay solid for very long and the warranties are shorter compared to other treadmills in its price range.
If you think this treadmill is not for you, then I suggest you visit our best buy treadmills page. Hopefully, you'll find the treadmill you're looking for there.
Update: This treadmill has been discontinued.

As an alternative, you might want to visit our best treadmill page to look for similar treadmills that we recommend.
Features and Benefits
The best asset of this treadmill is its cushioning. The Nordic Track 5100R treadmill boasts a precision-arched Reflex Deck™. It actually returns energy to your stride, all the while responding to your every step with advanced support and cushioning. So you can work out longer and feel great when you're done.
The powerful 2.5 HP, continuous-duty motor keeps a quiet pace. It can reach speeds of up to 12mph. This motor actually delivers good power for a treadmill less than $1,500.
A roomy 20-inch x 55-inch 2-Ply commercial grade treadbelt provides ample space for even the largest strides. It is ideal for both walking and running.
You can use the 30 built-in programs, as well as the optional interactive workouts from iFIT®. These numerous programs keep routines fresh, varied, and challenging for faster results and sustained motivation.
The built-in CardioGrip™ Pulse Sensor will instantly show your heart rate data... allowing you to workout in your target heart rate zone for greater workout efficiency.
The Power Incline™ feature elevates you from 0%-12% without interrupting your workout. Plus, the pair of 2-lb. ErgoGrip™ hand weights that comes with this treadmill allow for greater workout intensity if the elevation is not enough.
The SpaceSaver® design of the Nordic Track 5100R treadmill is perfect for those with limited spaces at home. You can fold this treadmill up after you're done to save some valuable area. But moving it from one place to another would not be an easy task due of its heavy weight.
Weakness
As mentioned above the biggest fallback of the Nordic Track 5100R treadmill is its quality. Its manufacturer used cheap parts in creating this machine in order to keep the price low and competitive.
Recommendation
I won't recommend this treadmill mainly because of its poor quality. Also, you might have a hard time looking for replacement parts if something goes wrong. For more information about Nordic Track please visit our Nordic Track Treadmills page
Summary:

Motor: 2.5 CHP continuous duty motor
Speed: 0 to 12 mph
Incline: up to 12%
Belt Size: 20" x 55" 2-Ply Commercial Grade Belt
Heart Rate: Yes
Folding: Yes
Features:
• 30 Built-in Workouts
• iFIT® compatible
• 12-Light Training Zones
• Reflex Deck™ Technology
• Cardio-Grip™ Pulse Sensor
• 2-lb. ErgoGrip™ Hand Weights
• 1 Step™ speed and 1-Step™ Power Incline™ control
• SpaceSaver® Design
---
Where to Buy?

If you plan on buying a Nordic Track 5100R Treadmill, I suggest you buy it at Nordictrack. You can get it for just $1,499.00.

If you plan on buying this machine I suggest you buy here

Click here to visit Sears' Nordic Track Treadmill Sales page.
Prices for all models starting at USD $599.99
-----------------------------------------------------------
Also consider the NordicTrack Treadmill Accessory Kit
---
Return from Nordic Track 5100R Treadmill to Nordic Track Treadmills
---