Lifespan TR1200i Treadmill Reviews
Lifespan TR1200i Treadmill

Rich in cool features and designed with advanced technology, the Lifespan TR1200i treadmill has been known to be among the top selling treadmill models from Amazon. ( Click here to see Amazon's best selling treadmills list )
The TR1200i is so efficient, it is equipped with a USB port where you can connect a USB drive and record your stats including time, speed, distance, heart rate, and calories burned. This way, you can track your fitness activity and learn whether you are making progress or not. Plus, connect your iPod or mp3 player to be able to listen to songs while you are working out.
Is It for You?

If you're an athlete who's into music and technology, then the Lifespan TR1200i treadmill is the one for you. For less than $1000 bucks, you are definitely getting more than what you pay for.
What You'll Get
The Lifespan TR1200i features a spacious running surface measuring 20" x 56" that's perfect for any of your cardio exercise needs. It is even supported by a one-inch deck and designed with six compression shock absorbers that would protect your knees, joints, and back while exercising.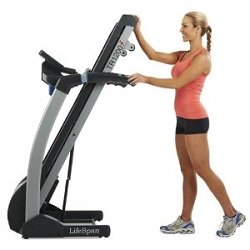 It is designed with a console stabilizing frame design that makes it firm and durable even after months and years of use. It also has a maximum weight capacity of 300 pounds.
Its 15 levels of incline allows you to walk or run uphill, providing you with greater challenges and demanding workout regimens. Through an easy switch of the console buttons, you can adjust the incline according to your specifications.
You won't get this from other treadmill models, but this machine has what is called the Intelli-Step™ step counting system that counts your steps, functioning as your typical pedometer.
And do you know that every time you exercise using the TR1200i treadmill, all your workout data such as time, speed, and distance can be stored in a USB storage drive? View these details through the LifeSpan Fitness Club website, simply by logging to your account!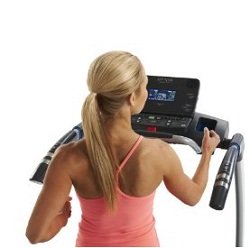 Play your favorite tunes by connecting your mp3 player to the USB port and be entertained every time you stride, walk, or jog. This machine has built-in speakers that produce high-quality sounds to help you avoid boredom.
Like most treadmills, the TR1200i has a multi-color LCD display with simultaneous readouts of your profile, exercise programs, and other personal data from your LifeSpan USB storage device.
Weaknesses:
So far I don't really see any weakness in this machine. If you do see some please write a comment below so I can include it when I update this page.
Recommendations:
With its numerous features and an affordable price, it is hard to find another $1,000 treadmill that provides the same or better value than this one. The Lifespan TR1200i treadmill is definitely worth considering if you're looking in this price range.(Visit also our best treadmill page to see other quality treadmills that we recommend)
Summary:
Price: $999
Drive Motor: 2.5 HP Continuous Duty DC
Belt Size: 20" x 56", 2-ply
Speed: 0.5-11 MPH
Incline: 15 Levels
Deck: 3/4" Phenolic with Brace
Foldable: Yes
Heart Rate Monitoring: Yes
Max. User Weight: 300 lbs.
Warranty: Lifetime for frame and motor, 3 years parts 1 year labor
Features:

• Stabilizing frame design
• Intelli-Step™ step counting system
• USB port – plug your USB drive or MP3 player
• Lifespan Fitness Club account included with purchase
• High-quality speakers
• Multi-color LCD display
• Six Variable Density Elastomers
• 800 lbs. max. lift incline motor
• 17 preset programs, 2 user setup programs, and 2 heart rate control programs
• EZ drop folding system
Where to Buy?

If you plan on buying a Lifespan TR1200i, I suggest you buy from Amazon. Just do a search for "Lifespan TR1200i Treadmill". It is currently being sold for just $999.99.
---
Do You Think This Treadmill is Worth Buying?
After reading this article, do you think buyers should purchase this treadmill? Share your opinion with other visitors of this site by writing your own review. It's free, fun and easy to do. Everyone is invited to join in.

Reminder: This site would no longer publish reviews that doesn't provide any real value to other consumers.
---


Once again, if you plan on buying this machine I suggest you buy from Amazon by looking for "Lifespan TR1200i Treadmill".
---
Return from Lifespan TR1200i Treadmill to Lifespan Treadmills