Life Fitness Club Series Treadmill Review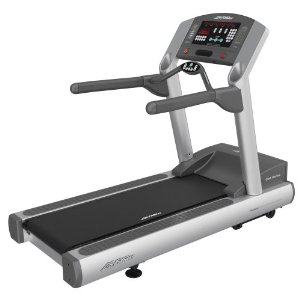 Life Fitness Club Series Treadmill Reviews
The Life Fitness Club Series treadmill is the home version of Life Fitness' popular health club model. It comes with a huge commercial grade motor which makes it one of the most powerful treadmills in the market today.
But, just like other Life Fitness machines, expect to spend more than usual if you want to own this treadmill.
Is This the Best Treadmill for You?

If you have the cash and you want nothing but the best home treadmill, then this is the model for you. It has excellent power, great cushioning, first rate quality, and rock-solid stability. In short everything you're looking for in a high end home treadmill is in this machine. However, with a price tag of over $5,000 I don't think everyone can afford it. So if this treadmill is beyond your budget then I suggest you visit our best buy treadmills page to look for an alternative in your price range.
What You'll Get
As I mentioned above, the Life Fitness Club Series comes with a huge 4.0 horsepower AC motor. The AC motor, which is found in most commercial treadmills, offers more power compared to DC drive motors that are available in most home treadmills. It can reach speeds of up to 12mph and can be inclined for up to 15% which is perfect even for hardcore runners.
The extra wide 60"L x 20"W multi-ply tread belt offers enough room for you to move comfortably no matter how tall you are. Plus, it features the FlexDeck shock absorption system which cushions the impact of your stride to minimize stress on your knees, back and joints by up to 30%.
The deluxe LED console with back-lit TouchSensor buttons is the same display that is found in Life Fitness' best selling health club treadmill. It includes a message center that provides workout feedback and a workout profile display that shows you your workout progress.
Another feature this treadmill boasts is its numerous workout programs. It comes with 16 workout programs with 6 custom and 7 My Workout™ personalized programs. There are also 5 HeartSync workouts that automatically adjust the intensity of your workout depending on your heart rate feedback via the Lifepulse digital contact heart rate sensors on the arms or via the included Polar wireless chest strap.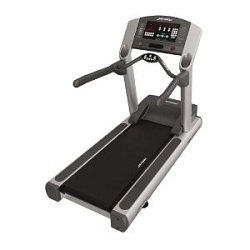 Other features include the built-in reading rack and dual accessory trays to put your drinking bottle, portable music, cell phone or reading materials. There is also the GoSystem Quick Start feature which remembers your preferred speeds for walking, jogging and running so you can immediately start your workout with just a push of a button.
And finally, the Life Fitness Club Series provides long warranties. It gives a lifetime warranty for its motor, frame and Lifespring shock absorbers, 10 years for mechanical and electrical parts, and a year for labor.
Weakness
So far, I don't see any weakness on this machine. Some might think that it's a bit overpriced but when you consider everything that you'll be getting, it still provides great value for your money.
Recommendation
To conclude, I highly recommend the Life Fitness Club Series treadmill. However, with a tag price of more than $5,000, I don't think a lot of people can afford it. If this is the case with you, I suggest you visit our Best recommended Treadmills page. There, you will find the best home treadmills arranged by price.
Summary:

Cost: $5,499
Motor: 4.0 HP AC motor
Speed: 0.5 to 12 mph
User Weight Capacity: 400 lbs
Incline: 0 to 15%
Warranty: Lifetime for frame and motor, 10 years for electrical and mechanical parts, 1 year for labor
Belt Size: 60" x 20"
Foldable: No
Heart Rate: Yes
Features: 

Dual Accessory Tray
Built-in Reading Rack
16-character Message Center
Delux LED Console
GoSystem™ Quick Start 
Touch Sensor™ Keys
16 Workout Programs
7 My Workout™ Personalize Program
6 Custom Workout
HeartSync Workouts
Cooldown
FlexDeck Shock Absorption System
Lifepulse™ Hand Sensors
Polar Wireless Chest Strap

Where to Buy?

you plan on buying a Life Fitness Club Series, I suggest you buy it at Amazon.com. They offer the best price around the net. You can get it for just $5,499. Just use the search box on the right to look for the term "Life Fitness Club Series Treadmill".
---
Do You Think This Treadmill is Worth Buying?
After reading this article, do you think buyers should purchase this treadmill? Share your opinion with other visitors of this site by writing your own review. It's free, fun and easy to do. Everyone is invited to join in.

Reminder: This site would no longer publish reviews that doesn't provide any real value to other consumers.
Read Visitor's Contributions
Below, you can comment or read opinions of other consumers...

---


Once again, if you plan on buying this machine I suggest you buy from Amazon.com. Just look for the term "Life Fitness Club Series Treadmill" using the search box on the right.

---
Return from Life Fitness Club Series Treadmill to Life Fitness Treadmills
---