Life Fitness 90T Treadmill Review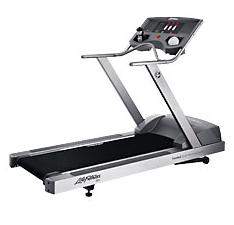 The Life Fitness 90T treadmill is the most basic commercial treadmill from Life Fitness.
And as expected it is also the company's cheapest commercial model.
Is This Your Best Buy Treadmill?

If you're a start-up health club owner who's a little tight on the budget, then this machine is perfect for you. It is not as costly as other Life Fitness commercial treadmills which would allow you to save money for more important aspects of your business.
Features and Benefits
This treadmill comes with a 3.0 HP continuous DC motor that is capable of up to 10mph and 15% incline. These speed and elevation would be enough to give most (beginners and intermediate runners) of your users an intense workout.
The 20"x60" running surface is the standard size of Life Fitness commercial treadmills. It is big enough to make users of all shapes and sizes feel comfortable during their workout. This pre-lubricated belt and wax-coated deck also comes with FlexDeck Shock Absorption System that has 8 large Lifespring™ shock absorbers to reduce stress on your user's joints while running and help prevent injuries.
The 3-numeric display windows (10 characters total) shows your users their Elapsed Time, Speed, Distance, Incline, Calories, Heart Rate, and Distance Climbed so they'll always know all important information regarding their exercise.
Other features include a reading rack to place magazines, an accessory tray to hold sports bottles, Tubular steel ergo bar to keep users balanced, and a Polar® Telemetry (chest strap required) to allow your members to workout in their target heart rate zone.
Weakness
Like most Life Fitness, this model's biggest weakness that it is overpriced. When you're buying a Life Fitness treadmill, expect it to cost more because you are paying for the brand name rather than the product.
Recommendation
To conclude, I would recommend the Life Fitness 90T treadmill if you want a basic Life Fitness commercial model. But I also suggest you check out other commercial brands (Landice, Precor, or Woodway) before you decide to buy. There are other treadmills out there that would give you more value for your money.
Summary:
Motor: 3.0 HP DC motor
Speed: 0.5 to 10 mph
User Weight Capacity: 350 lbs
Incline: 0 to 15%
Belt Size: 60" x 20"
Foldable: No
Heart Rate: Yes
Features: 

Accessory Tray 
Built-in Reading Rack 
Tubular steel ergo bar
Polar® Telemetry (chest strap required)
3-numeric display windows (10 characters total)
FlexDeck Shock Absorption System
Manual, Quick Start Programs

Warranty: Lifetime for Lifespring shock absorbers, 2 years for motor, 2 years for electrical parts, 1 year for mechanical parts, 1 year for labor

---
Where to Buy?

If you plan on buying a Life Fitness 90T treadmill, I suggest you buy it at Amazon.

Click here to visit Amazon and learn more
(opens new window)
---
Return from Life Fitness 90T Treadmill to Life Fitness Treadmills
---