Landice L7 Club Pro Sports Trainer Treadmill Review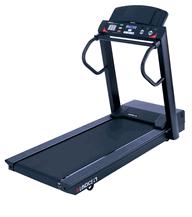 Landice L7 Club Pro Sports Trainer Treadmill

To tell you the truth, the Landice L7 Club Pro Sports Trainer's warranty is the only imporvement I saw in this treadmill from its LTD counterpart.
Is This Treadmill for You?
This treadmill is designed for commercial use. So if you're in the market for a home treadmill, this model isn't really your best choice. You'd be better off buying the home version of this treadmill, the Landice L7 LTD Pro Sports Trainer Treadmill.
Features and Benefits
The 3.0 HP continuous duty Baldor motor offers you speed from 0.5 to 11 MPH. Making sure your users get an intense workout everytime. It is made in the US, so you can be sure it is of good quality. It is capable of continuously delivering 3 horsepower without overheating.
The Landice L7 Club Pro Sports Trainer can be inclined for up to 15%. With this elevation, even the most hardcore of runners will get an extremely tiring workout.
The 1" thick reversible deck with the " Softer than Grass" VFX shock absorption system makes sure that your users get the most comfortable run. Plus, it helps prevent joint, knee and ankle injuries.
The safety lanyard with magnetic key switch gives added security should your users need to stop anytime during a workout. This feature is especially useful when a user gets dizzy in the middle of a run and have to stop the treadmill quickly.
The Landice L7 Club Pro Sports Trainer treadmill's 2 1/2" diameter, 14 lb steel rollers require less tension compared to smaller rollers since they have more surface area to grab the belt.
The rust free aluminum frame has a user weight capacity of up to 400 lbs. This is the strongest in the industry. Instead of steel, the Landice L7 Club Pro Sports Trainer treadmill uses aluminum for its frame. Aluminum is proven to be three times stronger than steel per unit weight.
This Landice treadmill uses the most efficient flywheel. Its high-inertia cast flywheel not only provides for a smooth feel, it also protects the motor and electronics from damaging foot-plant spikes that reduce life, thus, giving it a very long, repair-free treadmill life.
The Landice L7 Club Pro Sports Trainer also offers built in programs and user programs. Plus, your users will be guided through their workouts with a unique program progress indicator.
Finally, this Landice treadmill comes with a 5 year high volume health club commercial warranty. 5 year parts and 1 year labor.


Weakness?
With the amount of price increase of this treadmill from its LTD version, Landice should have added a few more features.
Recommendation
The Landice L7 Club Pro Sports Trainer treadmill is a quality machine. But I believe that there are other brands out there, which specializes in commercial treadmills, offering better specs and features than this one. So to conclude, I wouldn't recommend this unit for commercial use.
Summary:

Motor: 3.0HP continuous motor
Speed: 0.5 to 11 mph
User Weight Capacity: 400 lbs
Incline: up to 15%
Belt Size: 20" x 58" four-ply treadbelt
Dimesions: 32" x 73"
Weight: 300 lbs
Electrical Requirements: 110 Volts
Features:
• VFX shock absorbtion system
• 1" thick reversable deck
• Rust free aluminum frame
• Reading rack
• 2 1/2" diameter, 14 lb steel rollers
• Safety lanyard with magnetic key
• Reading Rack
---
Where to Buy?

If after reading this review you still plan on buying a Landice L7 Club Pro Sports Trainer treadmill, then I suggest you buy it at Landice. You can get it for just $3,795.00.

---
Return from Landice L7 Club Pro Sports Trainer Treadmill to Landice Treadmills
---