Ironman 220T Treadmill Review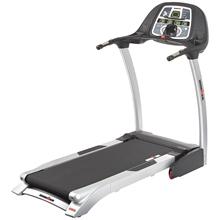 Ironman 220T Treadmill

Update: This treadmill has been discontinued.

To look for an alternative, you might want to check out our best treadmill page.
The Ironman 220T treadmill is in my opinion, the best entry level treadmill from the Ironman brand.
For just $100 more than the Ironman 150T, you'll get a bigger motor, improved electronics, more workout programs and a slightly longer parts warranty.
Is It for You?

If you are a little tight on the budget, then this model is definitely worth researching. It has features and specs you would normally only see in mid-priced treadmills. And best of all it is priced below $900, so most can afford.
Features and Benefits
This Ironman model has a 2.25HP continuous duty motor. This motor is more powerful than what the 150t offers and I believe a motor with this strength is more appropriate for treadmill with a huge 20" x 56" tread belt.
The 5 window LED display is also an improvement from the cheaper model. It keeps you updated on your workout progress by showing your time, distance, calories burned, and heart rate.
The 4 pre-set, 8 custom, and 2 user programs give you more workout variety to choose from. They keep your exercises fresh and help you remain motivated so you'll reach your goals faster.
And finally, this unit has one of the best motor warranties in its price range, which is 10 years. Other warranties include a lifetime frame warranty, 1 year labor warranty, and as mentioned above, a slightly longer (compared to the 150t) 2 years parts warranty.


Click here to try the Treadmill Trainer Workouts for Free
Weakness
The biggest concern I have of this machine is its quality. Keys Fitness, the manufacturer of Ironman treadmills, is known for producing equipment with below average quality. Other than that, this is one of the best units you can buy below $900.
Recommendation
Entry level treadmills are still entry level treadmills no matter how good its features or specs are. The only time you should consider buying a treadmill like this is when you really don't have the budget for a more expensive model. And if you're currently in that position, I highly recommend the Ironman 220T treadmill.
Also, if quality entry level treadmills are what you're looking for, then the Smooth 5.15P might be of interest to you. It is currently our best buy treadmill below $1,000.
Summary:
Motor: 2.25 HP continuous motor
Speed: 0.6 to 10 mph
User Weight Capacity: 325 lbs
Incline: 0 to 10%
Warranty: Lifetime on frames, 10 years for motor, 2 years for parts and 1 year for labor.
Belt Size: 56" x 20"
Foldable: Yes
Heart Rate: Yes
Features:
• 5 Window LED with Matrix Console
• Cushioned Deck
• 4 preset, 8 custom and 2 user programs
• Toggle Switches
• 2-speed cooling fan
• OneTouch™ speed and incline controls
• EKG Pulse Grip
---
Where to Buy?

If you plan on buying an Ironman 220T Treadmill, I suggest you order online through Amazon.com. It is currently being sold for just $884.44. As an alternative, you can also visit your local Target or Costco outlets and negotiate for the best deal possible.


Click here to visit Amazon.com
---
Return from Ironman 220T Treadmill to Ironman Treadmills

---