Image 19.0Q
by Richard
(South Carolina)
We purchased the Image 19.0Q 9 years ago.

We use it for walking not running. On average it is used 2 times a week anywhere from 2 to 4 miles each time, average, sometimes 4 times a week and some times we skip a week, so this is averaged.


Never had any problems never needed service of any kind.


My father began using it the most (daily) at age 72. In 4 months he lost 18 lbs. and kept it off.

The treadmill was his only form of exercise other that woodworking. Even after heart surgery 5 years ago he continues to use the treadmill weekly.


Its 2016 just moved the treadmill back to our home ( my father passed away) and are using it daily.


We must have got a good one because we have had no problems.
Join in and write your own page! It's easy to do. How? Simply click here to return to Image.
Online support when something goes wrong
by andrea
(monroe county)
I bought am image 15.0R from wal-mart about 2 years ago but it stopped working after about 9 months. I was upset because I did not have some kind of online support system where I could address the problem I was having with my treadmill. If you are going to sell a product for over $400.00, then there should be someone you can contact via net or by phone. I don't know if my motor went out or I just bought a bad treadmill. It only got used maybe 5 months after purchase. I got on it one day and it simply stopped running. I put the key in place and the belt would move for 2 seconds and stop each time I tried. If I could have talked to someone who knew more about the product than me, I would not have been so upset. I can guarantee that I will not make the same mistake twice.
Image User from Wayback
by Patrick Forsyrthe
(Howell, MI)

I bought an Image from Sears about 13 years ago, knowing nothing about treadmills. I payed about $1700 for it then, I'd assumed it was top of the line. Inside three months the motor went, but was replaced by a tecnician at no cost, no harm no foul. It came with Ifit, but the internet was and still is an elusive entity in my area, overcome only by an aircard (modem) at about $60.00 for 5g of data. Ifit was in it's infancy and has since basically excluded me and my treadmill as they have grown into what they are today. However the treadmill lives on!! The two programs that operate w/ the heart monitor and an age factor I find invaluable. I wonder what I will do if it ever breaks down again?
Join in and write your own page! It's easy to do. How? Simply click here to return to Image.
Image 10.4 QL

(Rochester, NY)
We have had an Image 10.4 QL treadmill for almost 7 years. It was purchased new in December 2002. We have had no problems whatsoever with it despite almost constant use for both running and fast walking. The only issue I have with it is it doesn't fold up properly. The locking mechanism does not line up with the treadmill frame. Other than that it has been great. In my opinion it's a "commercial" grade treadmill as good as any I've used at high end health clubs.
4 out of 5 stars
by Doc Cotter
(Branson, MO. U.S.A.)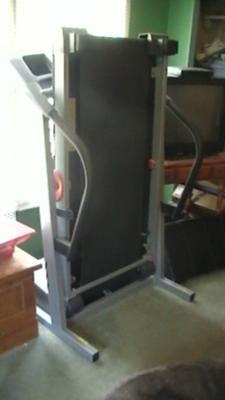 I really do give my Image 15 R 4 out of 5 stars, and that is only due to the fact that when I put the fan on high, it is really noisy, like it is hitting something. But other than that, it's great. I especially like the pre-programmed workouts and how you can overide them if you need to. Like when it elevates automatically, if you want to bring it down, just push the button, or if you want to slow it down, just push the button. I have had mine for about 5 years now and have not had anything done to it. It still runs today as when I first bought it. I really do like the fact that it has so many different features and very simple to use. It is very easy to set up and use and it folds up easily as well not taking up more than maybe 18 inches or so from the wall.
Join in and write your own page! It's easy to do. How? Simply click here to return to Image.
Image 10.0
by Jackie
(Maryland)
I really like my Image 10.0. I had gastric bypass surgery and have used that as my excerise tool ever since. I am now 6 years out from surgery and my treadmill is still going strong.
IMAGE 17.0R
by ISOLENE
(BROCKTON)
I BOUGHT A 17.OR TREADMILL FROM ICON 5 YEARS AGO, IT WORK WELL UP UNTIL IT STUCK IN 10.0 INCLINE AND I CANT GET IT DOWN, I CALL SEARS TECH, AND HE TOLD ME HE CANT FIND PARTS FOR IT, IT MIGHT NEED AN INCLINE MOTOR BUT IT IS STILL WORKING. I STILL LIKE MY TREADMILL. DO ANYONE KNOW WHERE I CAN FIND A REPAIRMAN TO FIX THE INCLINE?
7 years and still going

(missouri)
I've had the 14.0 for about 7 years now...It's still working like new. I'm NOT a daily exerciser anymore...just trying to stay in shape at least some...with 2 kids, fulltime job and house keeping...there's little time. This is just what I've needed though. I can choose to push myself by running, and the incline is just enough.... Perfect if you're not sure if its going to end up being be a doorstop.
Join in and write your own page! It's easy to do. How? Simply click here to return to Image.
Image 17.5 Treadmill
by Sharon
(Michigan)
I have used the 17.5 daily for the past 2 years. It is sturdy and the incline and speed both work fine.
Join in and write your own page! It's easy to do. How? Simply click here to return to Image.
Image 10.0
by Daria P.
(BrynMawr, PA)
I have an Image 10.0 in our vacation home in Maine. I love it. I now want to replace my home treadmill with an Image treadmill. I love the feel of it & most of all I love the reading rack.
Join in and write your own page! It's easy to do. How? Simply click here to return to Image.
IMAGE 15
by Shelli
(Texakana. AR)
I used my sisters treadmill and I actually loved it. The walking space was great, the fan, was okay only I was a bit short and it hardly cooled me off (5'4"), I could feel it pass my hair. The quater track I really enjoyed as you know when you have went 1/4 or a mile visually. I appreciated the dual windows to view your progress as the smaller one had the calories, distance, mph and time, but the larger one could be changed to what you wanted to view on top. It also showed how many steps you took. This had the 10000 step program so that you could also monitor the steps on a regular workout. It also had the workout programs. I believe 6 of them, its been 3 weeks ago. It was rather quiet, not very disturbing noise. It felt very durable, not one of the smaller simple looking machines, but was also a folding. I really liked it, which is what prompted me when I got home to start researching and seeking for my very own. I tell you, it is work to research all the brands they have... I appreciate this site, in lieu of.
Join in and write your own page! It's easy to do. How? Simply click here to return to Image.
Image 935
by Debby
(Valley Springs, CA)
I just read your poor review of the Image brand, so I have to write my two cents. I am baffled. Maybe I purchased one of the good ones. I don't know. I purchased it in about 1994 or '95 for what was an extreme amount of money for a treadmill at the time, $1300 to $1500 or thereabouts. It's been so long, I no longer remember. I came online to see if I could find out how to service the treadmill, since the service light has just recently come on. The treadmill has always been inside. It hasn't been used every day, but it has been used for long stretches by whichever family member is seeking to improve their health at some point. I haven't been a big user of the incline, but it has been used for fast walking and running and various degrees of incline. I've never used the programs that it has. It's quiet and I have to say it has been a real workhorse. I like the padded bar that goes across. I have a bad back and frequently need to rest my arms on it. All of the new treadmills I see only seem to have side handles, which really wouldn't do me any good at all. I have nothing but good things to say about it.
Join in and write your own page! It's easy to do. How? Simply click here to return to Image.
Image 935 treadmill
I have had an Image 935 for over 5 yeras, used it quite a lot, got it because it wasn't expensive and never gave me any problems! Maybe because I don't weight much (between 105-112lbs./50kg). My daughter also uses it (120 lbs) and we run, not walk on it...I have been very happy.
Join in and write your own page! It's easy to do. How? Simply click here to return to Image.
I'mage Owner.
by Gill
(Atlanta, Ga)
I ha e enjoyed my Image Treadmill but now it's kind of squeaking.

Is there any recommended Treadmill mechanics that can fine tune them?
A Long Relationship
by Bobbi B. Jacobo
(Omaha, Nebraska)
My Image 10.6Q treadmill was bought at Sears in Dec. of 1999.

I think that that may have been the biggest home treadmills around, at the time. Three years ago the mother board burned out, as they are known to do. I am thinking of getting the board remanufactured by an expert in the business, now.

So, had the treadmill for about 14 years of 3 to 5 times a week use before the mother board went bad. I have been thinking alot of fixing it because it was so enjoyable to use. The large 22'' X 60'' running sure was a dream, the incline always worked, so did the pre set programs, although I preferred to use the manual program.

There are several drawbacks.

1. The machine is no longer made so that if you want one you will have to buy used.

2. The running belt does seem to off center to the left at the rear of the treadmill so that simple re alignment is necessary about every third time you use it.

3. It isn't very quiet, not really noisy but not quiet either. There are no such attachments as for iFit, or WiFi or anything internet on it.

Also, heart monitor is worthless.

The good

1. If you can find one, as on eBay or Craigslist you can get it for just hundreds of dollars.


2. It is BIG but it does fold up, vertically. Has two front wheels to push it around with.


3. Alot of parts are still available for it.
4. I really like the face, dash board and the big bright readouts on it. Love the big track led image that shows your progress.


5. Book holder and water bottle holder on dashboard.

My personal observation about this machine:

Going back in time I would have bought it all over again for what I got out of it. Also, even on a surge protector...I would never leave this machine plugged in, when not in use. Unplug the whole thing, surge protector and all. I think that the electronics would last longer.

Mine was listed as $1,999.99 back in 1999.I bought the floor model which was the last one that they had, before Christmas at Sears, and paid $999.00 for it. I hope this is of some help.
Join in and write your own page! It's easy to do. How? Simply click here to return to Image.
Image 14.0
I have this treadmill and it is great. No problems with it. Now, I am a walker, no faster than 3-4 mph. So I can't say how it would perform for a runner but for me it is great. Lots of features and easy to use. I have had it for 4-5 years.
Join in and write your own page! It's easy to do. How? Simply click here to return to Image.
Extremely satisfied Image treadmill owner
by Gary
(Mansfield, OH)

I have owned my Image treadmill for 13 yrs now. Because of a back injury I have faithfully used it every day walking 3-4 mph for at least 60 min. I have not had one day of trouble with it until now. I have thoroughly enjoyed my treadmill experience with Image. I wish I could replace it with another Image but I guess that wouldn't be a good idea.
Join in and write your own page! It's easy to do. How? Simply click here to return to Image.
IMAGE 10.0
by SANDIE
(WINTER HAVEN,FL)
I am disappointed with this treadmill. I've only had it for 3 years and its no longer functioning properly. What's worse is that the store I got it from does not carry them anymore. I have gone online to find a phone number for customer service and to locate a service technician in my area but all the websites have conveniently left out the customer service phone number on the contact us portion. Since I cannot have this one serviced, I will have to buy a new one and it won't be an Image product.
image 17.5 treadmill
The treadmill works fine but I took it apart to move it and broke the frame pivot spacer. Icon service sent me the wrong part and does not return my emails to get the right part. The part costs 90cents, the shipping/handling costs 13.48. I still don't have the right part to fix the treadmill so I still can't use it. As far as their service is concerned, I think it is very poor.
Join in and write your own page! It's easy to do. How? Simply click here to return to Image.
---