Image Advanced 1400 Treadmill Review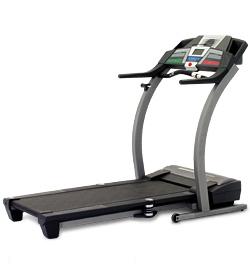 Image Advanced 1400 Treadmill

The Image Advanced 1400 treadmill provides one of the best values for a treadmill below $700.
Considering its price tag, the features and quality that this machine offers is definitely hard to beat. No wonder other websites regard this as a best buy treadmill in their respective reviews.
Is It for You?
If you're looking for an entry level treadmill, then this would be one of your better choices. It has nearly everything that you could ask for. It can even compete against treadmills twice its price, and probably beat some of them.
Features and Benefits
The Image Advanced 1400 features a 2.25 CHP commercial Mach Z drive system with an axle fan which reduces noise while at the same time extending the motor life by cooling internal components. This motor is capable of up to 10mph and up to 10% incline. This is good news for those who love intense workouts.
The 19" x 55" tread belt gives enough room for you to walk or run. Plus, it is made to reduce noise so you can concentrate on your exercise. Together with this belt is the ProShox impact absorption cushion. It is an air based cushioning system which reduces joint impact by up to 32% compared to road running.
This machine also comes with 10 built-in workouts to give users more variety depending on what your gaols are. Plus, the iFIT interactive personal training feature provides you with the motivation, coaching and personalization to make running more exciting and efficient.
The ClearView backlit console shows you necessary feedbacks regarding your workout. These include your speed, time, distance, incline, pace, calories burned, heart rate and pulse. In addition, it also comes with an extra-wide viewing angle so you can easily read these workout information.
Other features include a two-speed CoolAir workout fan which keeps you cool and comfortable especially during those long and grueling workouts, and the EKG heart rate monitor that reads your pulse for heart rate workouts.
Weakness
The biggest weakness of this machine is its warranty. Although it comes with a 12 year motor warranty, its parts and labor warranty is only available for 90 days. This means that cheap parts were used in manufacturing this machine.
Recommendation:
If you are looking for a good entry level treadmill, then the Image Advanced 1400 treadmill is definitely one of the best. I do recommend it but only if you can't afford a more expensive model because as you might have known, entry level treadmills usually don't last very long. (See our best buy treadmills page to look for other quality treadmills)
Summary:

Cost: $699.87
Motor: 2.25 CHP Drive Motor
Running Deck: 55"L x 19"W
Speed: 0 to 10 mph Quick Speed
Incline: up to 10% Power Incline
Foldable: Yes
Heart Rate: Yes
Warranty: 12 years motor, 90 days parts and labor
Features:
• EKG™ Heart Rate Monitor
• 10 pre-programmed workouts
• Clearview backlit console
• CoolAire Workout Fan
• ProShox Impact Absorption System
• iFIT interactive personal training

---
Where to Buy?
If you plan on buying an Image Advanced 1400 treadmill, I suggest you buy from Walmart.com. They offer the lowest price on the net. You can get it for just $699.87.

Click here to visit Walmart's Image Advanced 1400 Treadmill page

As an alternative, you may also want to buy directly from the manufacturer through WorkoutWarehouse.com. But you should only do so if Walmart runs out of stock because you can save $100 through Walmart.
Click here to visit WorkoutWarehouse.com's Image 1400 page
---
Do You Think This Treadmill is Worth Buying?
After reading this article, do you think buyers should purchase this treadmill? Share your opinion with other visitors of this site by writing your own review. It's free, fun and easy to do. Everyone is invited to join in.

Reminder: This site would no longer publish reviews that doesn't provide any real value to other consumers.
Read Visitor's Contributions
Below, you can comment or read opinions of other consumers...

help Not rated yet
I have one but the incline is not moving. It's making a moving noise lightly but there is no movement. Am I doing something wrong or is there an ajustment …
---
(Once again, if you plan on buying this machine I suggest you buy from Walmart.com.)

Click here to visit Walmart.com's Image Advanced 1400 page

---
Return from Image Advanced 1400 Treadmill to Image Treadmills
---