Image 15.0 Q Treadmill Review
The Image 15.0 Q treadmill is a well packaged basic treadmill.
It is being sold for less than $400 so expect the quality of this treadmill to be below average.
Is This Treadmill for You?
This treadmill is for people who are on a very tight budget but would still want to own a treadmill. Also, due to its poor quality, running on this treadmill would greatly increase the chance of problems arising. So I recommend you only walk on this unit.
If you have the money to spare, this treadmill is not for you. You'd be better off buying one of the best buy treadmills in the $1,500 or above categories.
Features and Benefits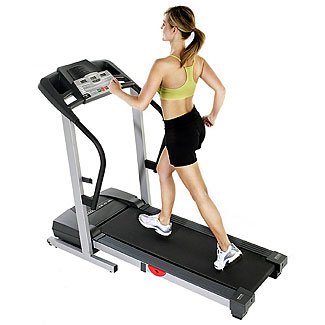 Like most Image models, the Image 15.0 Q treadmill offers a 2.5HP motor (not continuous duty) which reaches speeds of up to 10 mph and is inclinable for up to 10%. These allow you to modify the intensity of your workouts to suit your fitness level.
The 50"L x 18"W treadbelt is a little short compared to other Image treadmills. Well at least with a smaller tread belt the motor won't have to work as hard compared to other Image units with oversized tread belts. The bigger the tread belt, the bigger the motor is needed to run it.
This treadmill is also equipped with a built-in fan to keep you cool especially during those long workouts, and an EKG pulse sensor which monitors your heart rate and allows you to burn more fats by working out in your target heart rate zone.
Weaknesses
The main weakness of the Image 15.0 Q treadmill is its lack of quality. And with its cheap components, it would only be a matter of time before you'll need to spend money again to repair or replace this machine.
Recommendation
I don not recommend this treadmill. You'd be able to save more in the long run by steering clear of all the repairs and maintenance costs associated with this treadmill and buy yourself a quality treadmill in the $1,500 and above range. (See our best buy treadmills page)
---
Summary:

Motor: 2.5HP
Speed: 0 to 10 mph
User Weight Capacity: 250 lbs
Incline: 1.5 to 10%
Warranty: 90 days
Belt Size: 50" x 18"
Foldable: Yes
Heart Rate: Yes
Features:
• 4-window LED console
• 5X7 LED matrix
• Built-in fan
• Quickspeed • EKG pulse sensor
---
Where to Buy?

If after reading this review you still plan on buying an Image 15.0 Q treadmill, I suggest you buy it at Walmart. They're offering it for $388.37.
---
Return from Image 10.0 treadmill to Image Treadmills
---