Horizon T1201 Treadmill Review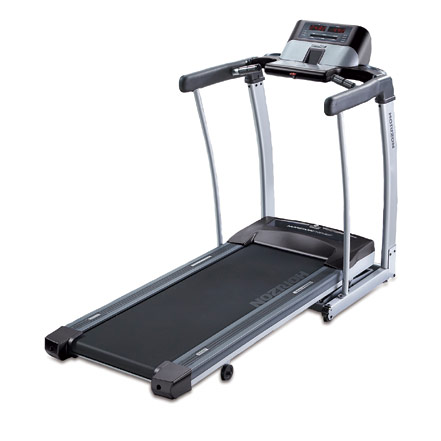 Horizon T1201 Treadmill

The Horizon T1201 treadmill is hands down one of the best sub-$1,000 treadmills in the market this 2010.
With its powerful motor and solid build, you'll definitely get your money's worth with this machine.
Is It Right for You?

If you're looking to buy a treadmill and you only have a $1,000 budget, then you can't go wrong by choosing this Horizon model. It is currently one of the best in the market today in its price range. Plus, it is one of the few treadmills that offer color options so you can match it to your room.
Features and Benefits
The Horizon T1201 treadmill boasts of a powerful 2.5 CHP motor which has a maximum speed of 12 mph and can be inclined for up to 12% (0.5% increments). So whether you're a walker, jogger, or runner, this machine can offer you the workout intensity that you're looking for.
Update: This treadmill has been discontinued.

As an alternative, you might want to visit our best treadmill page to look for similar treadmills that we recommend.
The huge 20" x 60" tread belt comes with a 3- zone variable cushioning system. It provides the right balance of firmness and shock absorption to reduce joint injuries typically associated with running.
This Horizon treadmill also features 7 program options that would help you reach your fitness goals faster. You'll get 3 preset programs (weight-loss, event training, cardio training) and 4 user workouts that you can simply save for convenience.
Also, like most treadmills these days, this one also comes with built-in speakers where you can play your iPod or MP3 player and listen to your favorite music while doing your workout. Or, if you want to listen to your music privately there is also an output jack for headphones. The console also includes an iPod(r) docking station that charges your iPod as you run.
Other features include a hand grip pulse monitor which allows you to keep an eye on your heart rate during your workouts and the hydraulic lift assist which helps make folding and unfolding the treadmill easier and safer.
Weakness
Although this treadmill comes with good quality I still don't think it would last long if a hardcore runner would use it frequently. They still used inexpensive parts on this machine that's why they are able to sell it at such a low price.
Recommendation:
I would recommend the Horizon T1201 treadmill to those looking for a solid and powerful treadmill even though you're on a tight budget. But for hardcore runners, I don't think this or any other budget treadmill is right for you. I suggest you visit our best buy treadmills page and choose one in the $1,500 or above price range.
Summary:

Cost: $999.00
Motor: 2.5 CHP Motor
Running Deck: 60"L x 20"W
Speed: 0 to 12 mph
Incline: up to 12% (0.5% increments)
Foldable: Yes
Heart Rate: Yes
Maximum User Weight: 350 lbs
Warranty: Lifetime frame and motor, 4 years parts and 1 year labor
Features:
• 3-Zone Variable Cushioning System
• 7 Program Options (3 open-ended and 4saved workouts)
• 2 large LED feedback windows with 1 additional communication window for easy navigation
• iPod(r) Docking Station
• Speakers with In and out jacks
• Heart Rate Grips
• Hydraulic Lift Assist for easy folding and unfolding

---
Where to Buy?
If you plan on buying a Horizon T1201 treadmill , I suggest you buy from horizonfitness.com. They offer the lowest price on the net. It is currently sold for just $999.00.

Click here to visit Horizon and learn more
(opens new window)
---
Do You Think This Treadmill is Worth Buying?
After reading this article, do you think buyers should purchase this treadmill? Share your opinion with other visitors of this site by writing your own review. It's free, fun and easy to do. Everyone is invited to join in.

Reminder: This site would no longer publish reviews that doesn't provide any real value to other consumers.
---
(Once again, if you plan on buying this machine I suggest you buy from Horizonfitness.com.)


Click here to visit the website
---
Return from Horizon T1201 treadmill to Horizon Treadmills

---