Horizon T101 Treadmill Review
Horizon T101 Treadmill Reviews
The Horizon T101 treadmill is so far one of the best entry level treadmills Horizon has ever produced.
It offers excellent value for your money and comes with pretty decent quality considering its price. It is actually the best selling treadmill from Amazon at the time of this review. However, it is still a budget treadmill so it should still be treated as such (no heavy running) if you want the machine to last a few years.
Is It Right for You?

If you're in the market for a budget treadmill that you would use for walking, then you should definitely consider this machine. However, I wouldn't recommend it to serious runners. It lacks the power, features and quality commonly required by hardcore runners. If you really want a treadmill built for runners please visit our best treadmill page and choose a unit in the $1,500 or above price range.
Features and Benefits
The Horizon T101 treadmill boasts of a 2.25 CHP motor. This motor is perfect for walking. It has a maximum speed of 10 mph and can be inclined for up to 10% so you can easily increase or decrease the intensity of your workouts.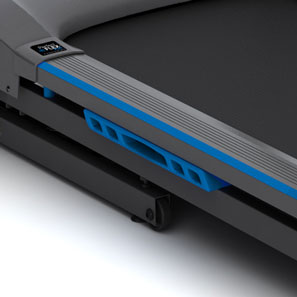 Horizon was pretty generous giving this machine a 20" x 55" 2-ply belt, especially considering that they are selling this for less than $600. This running surface is pretty big compared to most treadmills in this price range. Not only that, they also included a PerfectFLEX (tm) variable cushioning system that reduces impact on your joints during workouts.
There are also 9 program options which allow you to choose from 3 targets (time, distance, calories) in combination with one of 3 workouts (manual, intervals, weight loss) to create variety in your routine. Plus, there is a heart rate grip so you can always monitor your pulse while running.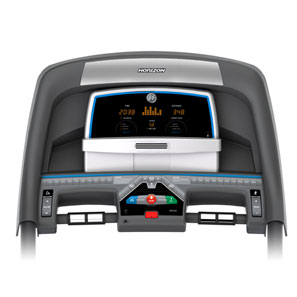 Other features include the Sonic surround speakers with MP3 input so you can play your favorite music while working out or you can also use the headphone output for more privacy. There is also the COOLfit(tm) fitness fan to keep you fresh while on the treadmill.
Weakness
So far the only weakness I see on this machine is its quality. But that is to be expected from all budget treadmills. They are simply not made for running and are best if used only for walking or at most very light jogging.
Recommendation:
I would recommend the Horizon T101 treadmill but only to those looking for a starter treadmill or those that are only going to use it for walking. If you are a serious runner, this unit is not for you. I suggest you use our best treadmill page to find a treadmill that fits your need.
Summary:
Cost: $799.99
Motor: 2.25 CHP Motor
Running Deck: 55"L x 20"W 2-ply belt
Speed: 0 to 10 mph
Incline: up to 10%
Foldable: Yes
Heart Rate: Yes
Maximum User Weight: 300 lbs
Warranty: Lifetime frame and motor, 1 year parts and labor

Features:
 PerfectFLEX(tm) Variable Cushioning System 
9 Program Options (3 targets and 3 workouts) 
3 Orange LED windows with an LED brickyard, and target/workout LED indicators 
COOLfit(tm) Fitness Fan 
Sonic Surround Speakers with MP3 Input and Headphone Output
Heart Rate Grips 
FeatherLight(tm) Lift System for easy folding and unfolding

---
Where to Buy?

If you plan on buying a Horizon T101, I suggest you buy from Horizonfitness They offer the lowest price on the net. It is currently on sale for just $799.99.

Click here to visit Horizon and learn more
As an alternative, you can also get this machine from Amazon. Just do a search for "Horizon T101 Treadmill".
---
Once again, if you plan on buying this machine I suggest you buy from Horizonfitness
Or Amazon by searching the term "Horizon T101 Treadmill".

---
Return from Horizon T101 treadmill to Horizon Treadmills
---