Horizon T100 Treadmill Review
Horizon T100 Treadmill Reviews
The Horizon T100 treadmill is arguably the best looking treadmill in the market today below $500.
However, looks can be deceiving as you'll soon find out that beyond its pretty exteriors this machine offers nothing else.
Is It Right for You?
If you're looking for a pretty looking treadmill that is very affordable, then this machine might be for you. However, with its poor quality, I don't recommend you use this machine for running. If you are a serious runner this machine is not for you. You would be better off buying one of our $1,000 or above best buy treadmills. (preferably in the $1,500 range)
Features and Benefits
The Horizon T100 comes with a 1.75 hp continuous duty motor which is good for walking but not powerful enough for running. This motor has a max speed of 10mph and a max incline of 10% however, I don't recommend you try reaching its maximum capability since this would shorten its life even more.
The 18" x 52" treadbelt is pretty decent compared to what others are offering in this price range. This belt also comes with AEROsoft™ cushioning system which reduces impact on your knees and ankle for a safer, more comfortable workout.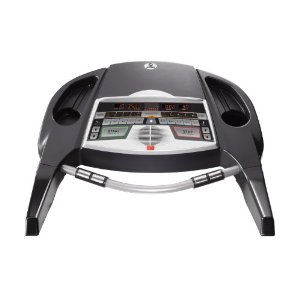 There is also a 5 window LED brickyard display that shows you important feedback regarding your workout so you can easily monitor your progress. Plus, there are 6 pre-programmed workouts to choose from that give you the variety you need to keep your workouts fresh.
Other features include the CoolFit™ fitness fan to keep you fresh during those long workouts and the folding feature which folds the treadmill vertically to save space in your room.
And finally, the Horizon T100 treadmill comes with short warranties but that is to be expected with nearly all budget treadmills especially those that are being sold for less than $500 since quality was sacrificed to keep prices low. It offers a lifetime warranty for frames, 7 years for the motor and 90 days for parts and labor.
Weakness
The biggest weakness of this machine is its quality. It comes with poor quality so you should avoid running on it. This machine was not built to take a lot of pounding.
Recommendation:
Due to its poor quality and its basic features, I don't recommend the Horizon T100 treadmill. If you really want an affordable treadmill, I suggest you visit our best buy treadmills page and check out our recommendations below $1,000. They come with more features and a heck of a lot better quality than this machine.
Summary:

Cost: $499.99

Motor: 1.75 CHP Motor
Running Deck: 52"L x 20"W
Speed: 0 to 10 mph
Incline: up to 10%
Foldable: Yes
Heart Rate: Yes
Maximum User Weight: 275 lbs
Warranty: Lifetime frame, 7 years motor, 90 days parts and labor
Features:
• AEROsoft™ Cushioning System
• 6 Workout Programs
• 5 Window LED Brickyard Display
• COOLfit™ Fitness Fan
• Heart Rate Grips
---
Where to Buy?

If you plan on buying a Horizon T100 treadmill, I suggest you buy it from Amazon. They offer the lowest price on the net. It is currently being sold for just $499.99.

Click here to visit the website and learn more
(opens new window)
---
Do You Think This Treadmill is Worth Buying?
After reading this article, do you think buyers should purchase this treadmill? Share your opinion with other visitors of this site by writing your own review. It's free, fun and easy to do. Everyone is invited to join in.

Reminder: This site would no longer publish reviews that doesn't provide any real value to other consumers.
Read Visitor's Contributions
Below, you can comment or read opinions of other consumers...

Horizon T100 treadmill Not rated yet
Bought Horizon T100 treadmill on Sunday 11/22. It did not work out of the box. Belt would not go. Took 3 days for repair to call me. He said he …
Horizon T100 treadmill Not rated yet
Bought Horizon T100 treadmill on Sunday 11/22. It did not work out of the box. Belt would not go. Took 3 days for repair to call me. He said he …

(Once again, if you plan on buying this machine I suggest you buy directly from Amazon.)

Click here to visit the website
---
Return from Horizon T100 treadmill to Horizon Treadmills
---