Horizon Elite 5.1T Treadmill Reviews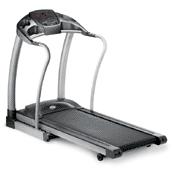 The Horizon Elite 5.1T treadmill is the most expensive treadmill from Horizon Fitness.
And in the below $2,000 price range, this model still doesn't compare to units from Sole or Smooth.
Is Horizon Elite 5.1T Treadmill Good for You?
If you want a big treadmill with a long motor warranty, then this is the machine for you. It is Horizon's biggest treadmill yet. And, it still offers the same 25 year motor warranty found on all Elite units.
However, if you have a $2,000 budget to buy this model, you might want to know that there are other more superior treadmills than this one. (See our best treadmills page)
Features and Benefits
This Horizon offers a 2.5HP continuous duty motor that can reach speeds of up to 12mph and can be inclined for up to 12% to give you maximum workout intensity.
The 20" x 60" tread belt is pretty impressive for a machine in this price range. And, it is even made more impressive by the fact that it comes with an orthopedic belt. This belt is softer and produces less noise compared to ordinary belts. However, my problem with it is that it also causes more wear and tear to the unit.
This machine also boasts 10 workout programs, comprising of 6 preset, 2 user and 2 heart rate workouts. These programs add variety and flexibility in your exercise so that you won't easily get bored using this equipment.
And finally, like others in the Elite series, this one also comes with an incredible 25 year motor warranty. This motor warranty is definitely hard to beat within or outside this machine's price range. Other warranties include lifetime for frames, 2 year for parts and 1 year for labor.
Weakness
The ortho belt is definitely a weakness. Add to this the fact Horizon machines are known to have questionable quality, and you'll get tons of repair and maintenance bills after a few years.
Recommendation
I don't recommend the Horizon Elite 5.1T treadmill. Ortho belt combined with below average quality is too much of a risk when you're in the $2,000 price range. If you want a high quality mid-priced machine, I suggest you visit our best treadmill page and look for a machine around the $2,000 price range.
Summary:

Motor: 2.5 HP continuous motor
Speed: 0.5 to 12 mph
User Weight Capacity: 350 lbs
Incline: 0 to 12% with 500 lbs of thrust
Warranty: lifetime on frames, 25 years for motor, 2 years for parts and 1 year for labor.
Belt Size: 60"L x 20"W 2-ply ortho belt
Foldable: Yes
Heart Rate: Yes
Features: 
Contact and Telemetric Heart Rate
2 bottle/ Stereo/ Remote Control Holder
Book/Magazine Holder
20 Quick Keys
Quick Speed and Quick Incline Keys
62x62mm blue backlit LCD screen 
6 preset, 2 heart rate and 2 user programs
---
Where to Buy?

If even after this review you still want a Horizon Elite 5.1T Treadmill, I suggest you visit Amazon.com. It is currently being sold for $1,999.

Click here to visit Amazon

---
Return from Horizon Elite 5.1T Treadmill to Horizon Treadmills

---