Golds Gym 480 Treadmill Review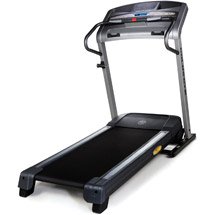 For a treadmill below $400, the Golds Gym 480 treadmill provides excellent value for your money.
(I believe it provides better value than the more popular Golds Gym 450) However, although you'll get great value, it is still an entry level treadmill so don't expect too much from it.
Is It for You?

If you're in the market for a budget treadmill that you would use for walking or light jogging, then this might be the one you're looking for. On the other hand, if you're a serious runner then you should avoid this or any other budget treadmills.
They are made from cheap parts so don't expect them to last very long if you would be running on it. If you really want a treadmill built for runners please visit our best buy treadmills page and choose in the $1,500 or above price range.
What the Golds Gym 480 offers?
The Golds Gym 480 treadmill comes with 4 weight loss workouts. These workouts are designed to maximize the calories that you burn during your exercise. This machine also features 4 performance workouts that were each designed by a certified personal trainer to help you reach your goals.
This machine also comes with 1 lb. hand weights. You can use this to tone your arms, shoulders and back while doing your run. These hand weights give you more out of every workout.
The G Force 2.5 HP motor gives just enough power for walking and some very light jogging. It comes with QuickSelect speed technology that allows you to jump from 0-10mph with a push of a button. A QuickSelect incline feature is also included so you can increase your intensity by doing uphill exercises (up to 10%).
The 18" x 50" tread belt is pretty basic. Most budget treadmills you'll find usually offer just this much running area. This belt also uses AirStride Plus Cushioning to keep the deck firm while reducing joint impact for a safer more enjoyable run.
Other features include a blue tinted display with Priority Workout and Motivational RaceTrack displays so you'll always keep track of your progress, and the PowerPulse heart rate monitor that reads your pulse which is perfect for people who does heart rate workouts.
Weakness
Just like other budget treadmills, the biggest weakness of this machine is its quality and warranty. It comes with poor quality which is to be expected with all entry-level treadmills which is also the reason why its manufacturer only backs up this machine's motor for 5 years and its parts for 90 days.
Recommendation:
I would recommend the Golds Gym 480 treadmill but only to those looking for a starter treadmill. If you are a serious runner, this unit is not for you. I suggest you use our best buy treadmills page to find a treadmill that fits your need.
Summary:

Cost: $377.00
Motor: 2.5 HP Drive Motor
Running Deck: 50"L x 18"W
Speed: 0 to 10 mph QuickSelect Speed
Incline: up to 10% QuickSelect Incline
Foldable: Yes
Heart Rate: Yes
Maximum User Weight: 300 lbs
Warranty: 5 year motor, 90 days parts and labor
Features:
 PowerPulse heart rate monitor 
4 weight loss workouts 
4 performance workouts
Blue-tinted display 
Priority Workout and Motivational RaceTrack displays
1 lb. hand weights 
AirStride Plus Cushioning

Where to Buy?

If you plan on buying a Golds Gym 480 treadmill, I suggest you buy from Walmart.com. They offer the lowest price on the net. It is currently on sale for just $377.00.
---
Return from Golds Gym 480 Treadmill to Golds Gym Treadmills
---