Exerpeutic Fitness Treadmills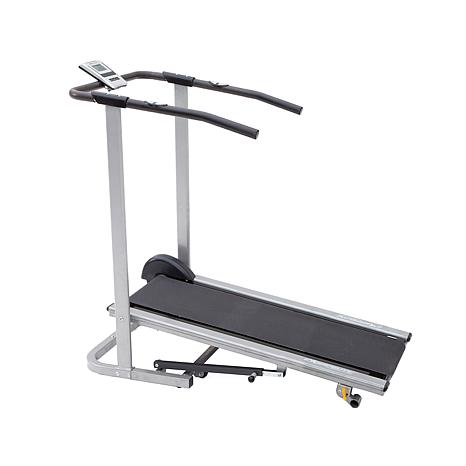 Paradigm Health and Wellness, Inc. is the owner and manufacturer of Exerpeutic products including treadmills. Paradigm has been awarded by WTC (World Triathlon Corporation), a well-known sport even company (Ironman), to develop, design and produce high quality Exerpeutic products.
Paradigm sells innovative, high quality wellness, health, and fitness products under brands that exceed customers' expectations. Among the brands are Exerpeutic, Progear, WorkFit, Fitness Reality, Ironman, and MyCloudFitness.
It is good to know that the company behind Exerpeutic products is dedicated to provide good health to its customers.
Exerpeutic is the brand particularly manufactured for home-use exercise equipment which includes treadmills, upright bikes, elliptical, recumbent bikes, and training cycles. If you will consider buying Exerpeutic, you can get treadmills which are affordable and with the most up-to-date technology that helps users workout efficiently and get superior results.
Is It For You?
With the many brands of treadmills in the market, sometimes it would be difficult for you to decide which one to purchase. So, knowing beforehand what you need or want will help in narrowing down your choices. Exerpeutic is one brand that you may consider, learning that the company behind it is dedicated to help customers attain their goal of being healthy and fit.
The price range for Exerpeutic treadmills runs between $189 and $799 and prices is based on the features the treadmill offers. Based on the listing of the company, there are 5 models that you can choose from.
If you purchase directly from the manufacturer, you might get the treadmills priced higher than other sellers, but you can't get the extended warranty the manufacturer provides. Undeniably, the 5-years warranty on these treadmills is better than the 90-day warranty given on labor and parts only. So, if you can afford the price and particular about warranties, then it is helpful that you purchase directly from the manufacturer.
Exerpeutic treadmills are almost fully assembled when it arrives to you and all you have to do is to attach some parts. Usually, assembly will only take about 30 minutes.
The frames are compact which allows easy and convenient storage, safety is incorporated in the design and usually has more allowable capacity for users. These features and advantages are very ideal if you are going to use your treadmill at home.
What You'll Get
The use of treadmills for your workout is an effective way to accomplish a healthy lifestyle and burn extra calories. Presently, there are five models of Exerpeutic treadmills that you can check out which are:
1.       Exerpeutic WorkFit Desk Station Treadmill – This treadmill is manufactured with a desk top which is 48in x 24in in size and contains accessories such as 2 article or cup holders, a pre-drilled opening for electrical cords, and AC electrical outlet station. It can accommodate a monitor, full-sized keyboard, mouse and even a phone and can hold up to 80 pounds. It is foldable and has 4 angle adjustments. Maximum user weight is 400 pounds and handles are 18in long. The price of this treadmill is $799 with 5-year extended warranty and free shipping
2.       Exerpeutic TF1000 High Capacity Walk to Fit Electric Treadmill with Pulse – This treadmill has a maximum user weight of 400 pounds with pulse monitor to measure your desired heart rate. The frame is reinforced to contain heavy weight capacity with wide side railings if needed.  It offers two incline positions and a belt with size of 40in x 20in. Price for this model is $499 with 5-year warranty on the motor and frame and a 90-day warranty on labor and parts.
3.       Exerpeutic TF100 Walk to Fit Electric Treadmill- This treadmill is created for walking and provides a maximum weight of 350 pounds for users. For safety features, it has extra long handles to ensure safe walking and balance. The frame is heavy duty and the side rails are wide enough for comfortable on an off. The walking are is 16in x 36in and it folds for easy storage. The manufacturer's price is $429 with free shipping and 5-year warranty.
4.       Exerpeutic 100XL High Capacity Magnetic Resistance Manual Treadmill with Heart Pulse System – The twin 6in diameter flywheels make your workout more consistent and smoother. The maximum weight for users is up to 325 pounds, a heart pulse pads which allows you to measure your intended heart rate. The incorporated Pacer Control with 8 level magnetic tensions can provide you different intensity of difficulty and facilitates to stabilize the speed of the treadmill for a hands-free walking. The treadmill belt measures 16in x 45in and the treadmill is practically assembled out of the box, all you have to do is to attach the computer and you are all set. Priced at $299 with free shipping and 5-year warranty.
5.       Exerpeutic 260 Manual Treadmills with Pulse – This treadmill is the least priced among the 5 models at $189 with 1-year warranty. This manual treadmill has the benefits of out of the box minimal assembly, maintenance free and uses no electricity. It has a maximum user weight of 260 pounds and the pulse monitor helps you measure your heart rates and pulse level. The treadmill belt measures 41in x 13in and the manual incline is 9% and 12%. The 7 pounds precision balanced flywheel provides you a quiet operation and makes you enjoy your TV watching or music listening without any interference.
Weaknesses
Most of the users find the cushioning of the Exerpeutic treadmills not able to provide a comfortable absorption.  It may be good for walkers, but not much for runners.
Not all the models have incline that users need to have a more challenging workout.
Again, not all the models have workout programs, only displays data on workout such as heart rate and pulse rate.
Strengths
The strong points on Exerpeutic treadmills are the warranties it provide to consumers, being of high quality standard products, and the reasonable prices given on the treadmills.
Recommendations:
Most of the models for Exerpeutic treadmill is high capacity and can be good for walking. The company's provision of 5 years warranty is a bonus factor especially if you are buying the product through their website.
These treadmills prices are reasonable considering the features and benefits they offer. But, if you still want to look for other treadmills with parallel price range, you can check out our evaluations on treadmills under $500.
Where to Buy?
Considering the warranty provided by the manufacturer, it may be best to purchase directly from the manufacturer.
---