Evo FX60-HRO Treadmill Review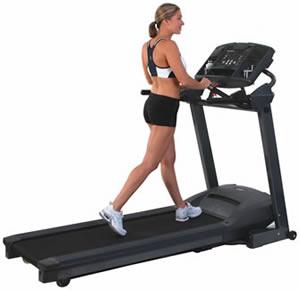 Evo FX60-HRO Treadmill
For just $200 more, the Evo FX60-HRO treadmill gives you everything that the Evo FX40-HR offers and more.
Both machines boast identical specs and features but the FX60-HRO comes with an orthopedic belt.
Is This Your Best Buy Treadmill?

If you're looking for a treadmill that will help you recover from an injury, or simply prevent one from happening, then this model's ortho belt is perfect for you. Plus, with its power, size and features, hardcore runners might even find this machine attractive.
Features and benefits
As I've mentioned several times above, this unit features an orthopedic belt. This belt is softer than ordinary belts so there's less stress on your joints while exercising. However, it is also because of this feature that the belt needs to be thicker. And with a thicker (and heavier)belt, the machine has to exert more effort for the unit to function. As a result, ortho belts produces more wear and tear that reduces the life of you treadmill.
The Evo FX60-HRO treadmill boasts the motion control feature. It lets you adjust the speed of your run by waving your hand over light sensors on the handrail. This is perfect for hardcore runners who usually runs on a fast pace as it won't require you to uncomfortably lean and reach forward while in motion, just to change your speed.
This machine also offers a huge 3.0HP continuous duty motor which is an excellent bargain considering its price. This motor is capable of delivering speeds of up to 10mph and has 15 levels of incline to give you the intensity you need for an effective workout.
The 20" x 54" running surface gives you enough room to move so you can have a comfortable workout. This ortho belt is equipped with the Swing Arm frame cushioning system which reduces harmful impact on you knees, joints, and ankle to minimize injuries that might occur during your exercise.
The 1/4 mile running track, 3 pre-set programs with 12 intensity levels each, 3 custom courses and 9 user profiles give you more variety and flexibility you'll need to get results.
The wireless heart rate control and hand pulse grip monitor allow you to easily workout in your target heart rate zone for a more efficient exercise. Plus, with the 5 window LED display, you'll see your calories/levels, time, pulse, distance simultaneously (No toggling required) so you can always keep track of your progress.
Other features include non-slip large rollers to extend the life of the belt, deck and roller bearings, and shock-assisted manual fold with four-wheel castor system for easy movement and storage.
And finally, like other treadmills in the Evo lineup this 2006, this one also comes with generous warranties. It boasts lifetime warranties for frame and motor, 5 years for parts, and a year for labor/in-home service.
Weakness
Other than the fit and finish setback of Evo models this 2006, one other weakness of this machine is the ortho belt. Although it also has a positive side, my biggest concern with this belt is that it greatly increases wear and tear during workouts.
Recommendation
All in all, I still think the Evo FX60-HRO treadmill is a decent machine, but because of its ortho belt, I would not recommend it. If you want a similar machine without the ortho belt, I suggest you visit our Evo FX40-HR review or, if you want to look for other high quality treadmills, please visit our Best Buy Treadmills page.
Summary:

Cost: $2,199

Motor: 3.0HP continuous motor

Running Deck: 54"L x 20"W

Speed: 0.5 to 10 mph

User Weight Capacity: 350 lbs

Incline: 15 levels

Warranty: Lifetime frame and motor, 5 years parts, 1 year service

Foldable: Yes

Heart Rate: Yes




Features: 
• Handrail grip pulse monitor
• Wireless Heart Rate Control
• Motion Control
• 3 pre-programmed workouts with 12 intensity levels
• 3 custom courses
• 1/4 mile running track
• 9 user profiles
• 5 window LED display 
• Non-slip large rollers 
• Orthopedic Belt
• Swing Arm frame cushioning system
• Shock-assisted manual fold

---
Where to Buy?

If you plan on buying an Evo FX60-HRO treadmill, I suggest you buy it at Evofitness. They offer the best price around the net. You can get it for just $2,199.
---
Return from Evo FX60-HRO Treadmill to Evo Treadmills
---