Evo 1 Treadmill Review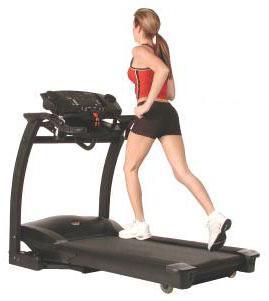 Evo 1 Treadmill
The Evo 1 treadmill is similar to the Evo FX40HR treadmill but with better electronics and longer warranties. However, since the Evo 1 is about $500 more expensive, I still believe that the FX40HR would give you more value for your money.
Is This Your Best Buy Treadmill?
If you want a huge treadmill with big running surface and has a sturdy and solid feel, then this is the model for you. Plus, it is equipped with the patented motion control feature which makes this model even more appealing especially to runners.
Features and benefits
As I've mentioned above, this treadmill comes with motion control. This feature lets you adjust the speed of your run by waving your hand over light sensors on the handrail. This is perfect for hardcore runners who usually runs on a fast pace as it won't require you to uncomfortably lean and reach forward while in motion, just to change your speed.
The Evo 1 treadmill boasts a 3.0HP continuous duty motor which is pretty decent considering its price tag. This motor is capable of speeds from 0.5 to 11mph and has 15 incline levels to meet the needs of both beginner and advance runners.
The 20" x 62" running surface is long and wide to give you more space to move and be comfortable during your workout. Not only that, you'll also get the Swing Arm frame cushioning system to reduce harmful impact on your joints, ankle and knees thus, reducing the risk of injuries.
The 3 preset programs, 1/4 mile running track, wireless heart rate control as well as the Quickstart and Manual modes give you variety and flexibility in your run. And with the 8 new workout courses, it doesn't matter whether you're a beginner or advance runner, these courses will surely give you an effective workout.
The major improvement of this model from the FX40HR is its better electronics. This extra large LED console with 5 window DOT matrix display, simultaneously (No toggling required) displays your speed, distance, time, pace, calories burned, pulse rate so you can always keep track of your progress.
Other features include non-slip large 2.5" rollers to extend the life of the belt, deck and roller bearings, an orthopedic belt, an accessory rack to conveniently put you water or sports bottles, and dual motor fans to keep both the drive motor and electronics cool and extend their lives.
Weakness
So far the biggest weakness of this machine is its price. It is a bit overpriced compared to other models in the Evo lineup. Also, although listed price already includes shipping, you would be charged extra for the indoor delivery and set-up. And since this machine is quite heavy and does require some assembly, you might be forced to pay this extra.
Recommendation
Consumer Guide considered this treadmill as a best buy. I would too if not for the FX40HR. The Evo 1 treadmill is a great machine but I don't think its additional features from the FX40HR are worth the extra $500 their charging. So unless you really need the lifetime warranty and excellent electronics, you'll be better off sticking with the FX40HR.
Also, if you don't really need the motion control feature and you just want a high quality, excellent value treadmill that fits your budget, then I'm inviting you to visit our best buy treadmills page to find the machine that you're looking for.
Summary:

Motor: 3.0HP continuous motor

Running Deck: 62"L x 20"W ortho belt

Speed: 0.5 to 10 mph

User Weight Capacity: 400 lbs

Incline: 15 levels

Warranty: Lifetime (residential), 1 year labor

Rollers: 2.5"

Foldable: No

Heart Rate: Yes

Features: 


• Handrail grip pulse monitor
• 8 different workout courses 
• 1/4 mile running track
• Quickstart and Manual Modes
• 3 Pre-set programs
• Extra large LED console displays speed, distance, time, pace, calories burned, pulse rate 
• Swing Arm frame cushioning system
• Non-slip large rollers 
• Orthopedic belt
• Motion Control
• Wireless Heart Rate Control with belt and transmitter
• Optional Smooth Speaker System
• Accessory rack with dual water bottle holders and CD tray
• Dual Motor Fans

---
Where to Buy?
If you plan on buying an Evo 1 treadmill, I suggest you buy it at Evofitness. They offer the best price around the net. You can get it for just $2,699.
---
Return from Evo 1 Treadmill to Evo Treadmills
---