Endurance T6iHRC Treadmill Review
Endurance T6iHRC Treadmill Review
Achieve cardiovascular efficiency with the Endurance T6iHRC treadmill. Designed with a variety of features and programs to choose from, the machine is ideal for light runners who are dedicated in achieving their fitness goals.
The features of the Endurance T6i were based on the specifications of training machines on professional health club. However, this is still just a home treadmill so you should not compare it to high end treadmills.
Is It For You?
Whether it is losing weight or improving your endurance that you are trying to achieve, the Endurance T6iHRC treadmill will be able to give it to you. If you are a light runner looking for the ideal machine that will put you in total control of your workout routines, this treadmill is a decent choice, especially since it is being sold at Amazon for nearly half its original price.
What You'll Get:

Designed with 2.5 HP continuous duty and 7.5 HP peak duty motors, the Endurance T6iHRC treadmill has just enough power for jogging or leisure runs.
According to the manufacturer, the machine comes with a low maintenance, shock absorbent deck and durable tread belt that support your every stride. Combined with an SRS or Suspended Running Surface system, the machine effectively absorbs shocks and reduce stress on your joints.

The heart rate control program of the machine monitors your heart rate to give you an idea of your workout progress. To maximize your training sessions, it can also automatically adjusts your speed and incline to reach and maintain your target zone.
The console comes with bright LED displays that would keep track of your workout and let you know how close you are to your results. Monitor your time and distance or adjust your speed and incline through the quick-touch keys available on the console.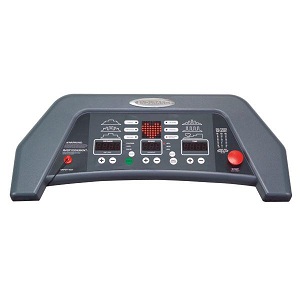 Similar to other Endurance treadmills, this model also features family-friendly safety keys that allow you to use the machine only when the safety key is engaged in the control panel. This is a great safety measure as no one can simply operate the machine without proper guidance.
Weaknesses:
Although you can buy this machine at almost half its original price at Amazon, it still doesn't provide the same value as other best buy treadmills in its price range. And for a $1,500 treadmill, the motor is pretty weak and the running surface is a little short.
Recommendations:
Before deciding to buy an Endurance T6iHRC treadmill, know that with the same price range, you have many other options. So don't rush your decision and look around first for that perfect treadmill that suits all your fitness needs. Who knows, you might end up with a treadmill that provides you with more value than this one. (If you need guidance, see our best treadmill page)
Summary:
If you plan on buying an Endurance T6iHRC treadmill, I suggest you buy it from Amazon. You can get it for just $1,598.


Click here to visit Amazon and learn more
Price: $1,598
Motor: 2.5 HP Continuous Duty
Speed: 0.5 to 10 mph
Incline: 0% to 12%
Folding: No
Heart Rate Monitor: Yes
Running Area: 20" x 53"
Max User Weight: 300 lbs.
Dimensions: 31"W x 70"D x 54"H
Warranty: Lifetime for everything (Home use)

Feature:
Low Maintenance Deck
Heart Rate Control Program
3-Window Profile Matrix LED Display
Contact and Heart Rate Control Endurance and Polar compatible
Home Lifetime Warranty
Suspended Running Surface technology
Safety Key

Where to Buy?

(Once again, if you plan on buying this machine I suggest you buy from Amazon.)


---
Return from Endurance T6iHRC Treadmill to Endurance Treadmills
---