Endurance T3i Treadmill Review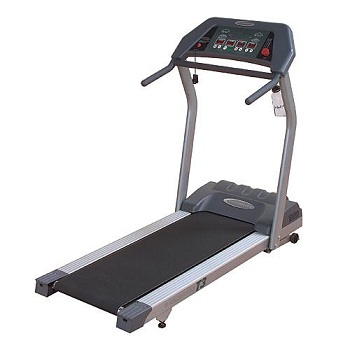 Endurance T3i Treadmill
The Endurance T3i treadmill is an entry level treadmill from the Endurance brand of Body-Solid. At around $1,000, the T3i is definitely something to look at.
Designed with features and specs that are comparable to some of the better entry level machines, this treadmill is ideal for the figure and budget conscious users.
Is It For You?
If you are looking for an entry-level treadmill that will provide you with most of your fitness needs, the Endurance T3i treadmill should be on your list. Since this is usually sold for more than $1,700, at its current sale price of $1,000, you will get more for what you'll pay for.
What You'll Get:
To begin with, the treadmill is constructed with a heavy-duty steel frame that delivers a solid platform for users. Similar to other Endurance treadmill models, they are so-called to "endure" and withstand heavy use.
Designed with 2.2 HP continuous duty motor, the machine showcases decent power and performance for standard home use. Moreover, each motor is protected by the Pulse Width Modulation technology (PWM) for a smoother and more efficient operation
It also comes with a phenolic deck and a tread belt that offers shock absorption. Employing a Suspended Running Surface technology, the decks provides support and comfort to your feet, ankles, knees, and hips even during long and rigorous runs.
Featuring a Safety Key Stop System, the machine is designed to safely shut down its operation in case of emergency or when you suddenly decide to. For added safety, it will only run when the safety key is in place.
To monitor your progress in each workout, your data are shown in LED displays available in the console. Track your time, speed, incline, distance and calories burned to get better and more effective results.
Weaknesses:

No matter how good it sounds, the Endurance T3i treadmill is still an entry-level machine. If you are a serious runner who needs demanding workouts regularly, you may want to look for other more expensive and more powerful treadmills. (See our best treadmill page) Besides, the 18 x 50 inch running surface won't be enough to make you feel comfortable while running.
Recommendations:

Sticking by its name, the Endurance T3i treadmill is built to provide years of service. If you are to use the machine at home only for walking or leisure runs, you'll definitely get the most out of its features and programs. However, there are treadmills from other brands that offer better value for your money at this price range. So be sure to check out our best recommended treadmill page first before deciding to buy.
Summary:
If you plan on buying an Endurance T3i treadmill, I suggest you buy it from Amazon. You can get it for just $994.


Click here to visit Amazon and learn more
Price: $1,099
Motor: 2.2 HP Continuous Duty
Speed: 0.5 to 10 mph
Incline: 0% to 12%
Running Area: 18" x 50"
Folding: No
Heart Rate Monitor: No
Max User Weight: 275 lbs.
Dimensions: 31"W x 63.5"D x 54"H
Warranty: Lifetime for motor and frame
Features:
Suspended Running Surface technology
Phenolic deck
Multi-ply tread belts
Bright LED displays
Safety key
Fat burn, interval, cardiovascular, and endurance workout programs
Multi-point shock absorption system
6 pre-programmed workouts

---
Where to Buy?

---
(Once again, if you plan on buying this machine I suggest you buy from Amazon.)


---
Return from Endurance T3i Treadmill to Endurance Treadmills

---