A Concise Review on Confidence Power Trac Pro 735W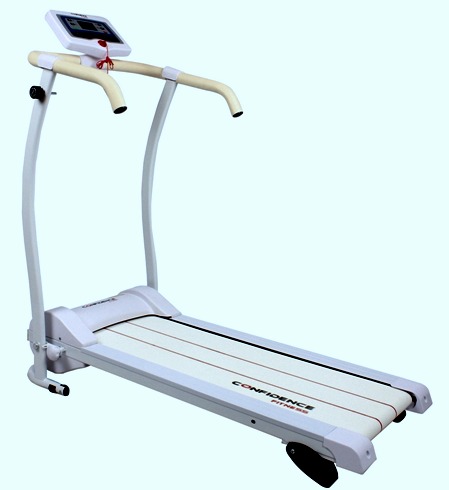 Confidence Power Trac Pro 735W is a motorized electric treadmill which is foldable. It is a good running machine with three manual incline settings ideal for a more intense exercise routine.
This model is one of the most reasonably priced treadmills you may find so far. If you intend to start walking or running within the premises of your home, then this may be a good start.
Here, I will try to give you a concise review on this treadmill hopefully may help you on deciding which to purchase.
Is It For You?
How would you know if Confidence Power Trac Pro 735W is really for you?
Take your time to know and learn more about this machine. As you read below about this product's description, specifications, weaknesses, strengths, and features; you may know if this is the exercise equipment that you need.
It is beneficial for you to consider your goals. Also, if you have your family with you, consider also their goals when it comes to being healthy and up and about.
Take into consideration that walking is a most recommended form of exercise almost for everyone. Doctors and therapists recommend walking as well.
Using a treadmill is one of the handiest ways of having your daily walking and running. Any user of this treadmill can organize their warm up period, distance travel, speed and cool down period without difficulty.
Those models with special features may even provide more beneficial experience such as having inclines and built-in programs.
What You'll Get
Knowing the product description of this treadmill is essential in deciding if this is the proper machine for you and probably for your family as well.
Confidence Power Trac Pro 735W is ready with 12 fitness built-in programs which are of aid if you are not proverbial yet with what type of exercise you desire to execute.
The LED display on this machine may let you determine the distance you travelled, accomplished speed, time spent, and the amount of calories you are able to burn.
You may also be able to set your speed and manually adjust your incline. The inclines provided for you are five degrees, 3.5 degrees, and two degrees.
The motor for this model is 1 horse power and the wattage is 735.
Being foldable, you will not have difficulty carrying it around your home. This feature will make it also for you to store the treadmill and save on some space at your home.
The speed range is between 0.6 to 6.2 miles per hour.  You are also provided with and emergency stop clip to make your experience safer.
Weaknesses
Unlike treadmills that you find at fitness gyms, this model is quite narrow and small. But, its being compact is suited for home exercising.
It may sometime be noisy and not as powerful unlike larger models with higher power motor. But considering the price is almost half of the larger models, it is already worth it.
Strengths
The compact design of this treadmill is one of its strengths. If you don't want to give up space at your home, this treadmill is a good option.
Because of its compact design, you may store it at your bedside.
This treadmill is not complicated to use and built-in programs are very helpful.
The after sales customer service for this brand of treadmills is remarkable. They are very much willing to hear from you and would be paying attention to know if you are fully satisfied with what you have purchased.
Recommendations
After reading the various features and specifications of this treadmill, you may decide if this is what you want.
Personally, I may say that this is a good buy considering the features and price.
The $199.99 price offered by Amazon is fairly a good price. But, you may also check out other sellers to make sure that you are getting the best price.
Summary
Here, I will sum up the features offered and specifications of this model for your easy reference.
Features include a quick four pre-set speeds you may easily select (1.86mph, 3mph, 4.9mph, and 6.2mph); LED display for distance, speed, calories, and time; adjustable manual inclines; 12 fitness built-in programs and an emergency stop clip.
Runway size is 14 inches by 39 inches.
The folded arm length is 22 inches. Dimension of treadmill when folded is 49 inches by 24 inches by 10 inches while the dimension when you are going to use it is 49 inches by 24 inches by 47 inches.
The real weight of the treadmill is 52 pounds, but when it is delivered to you the package weight is 55 pounds.
Maximum user weight for this model is 265 pounds and maximum capacity is 330 pounds.
For the warranty, you have to get in touch with the manufacturer directly.
Where to Buy?
Many distributors and online sellers carry and sell Confidence Power Trac Pro 735W. However, it may be more beneficial for you to purchase directly from the manufacturer to enjoy full warranty.
---