Bowflex TreadClimber TC1000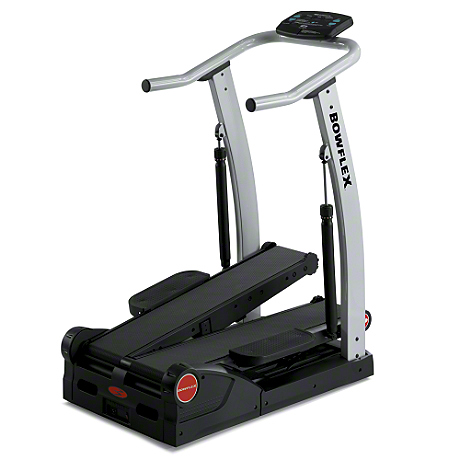 Bowflex TreadClimber TC1000
At a relatively affordable price, the Bowflex TreadClimber TC1000 is manufactured and designed with features that are vital in providing revolutionary experience and winning results.
The Bowflex TreadClimber combines the power of three exercising machines namely, the stair climber, elliptical trainer, and treadmill. With the benefits of these units combined, you will definitely get what your expected result.
Whether you long for toned muscles or weight loss, the TC1000 can help you achieve your fitness goals.
Is It For You?

If you easily get bored with a treadmill and think that your desired results are not achieved immediately, you may want to try out the Bowflex Treadmclimber TC1000. It is designed to burn excessive calories in the body in less than half the time the treadmill does
What You'll Get:
With the price of $1298, it wouldn't hurt to try this entry-level TreadClimber that promises to give you a different kind of workout compared to that of treadmills. Providing a cost-effective way of burning calories, losing fat, and reducing those inches, the TC1000 promises the user to achieve these results in just four weeks, provided that you give utmost dedication and time on your regular work out program.
The Bowflex TC1000 is designed with electronics that provides up to 12 levels of intensity adjustment, giving you a wide range of workout levels. The TC1000 is then suitable for either beginners or skilled runners.
The hydraulic resistance of the machine makes use of two separate belts, providing an effective way of burning calories. However, such design might limit your movements. Moreover, the lack of durability of its shocks will cause you to have them replaced earlier than usual.
Adjust the speed of the machine between 0.5 and 3.8 mph. Whether your exercise is for leisure or training purposes, you have a wide range of speed options to choose from. Plus, get to see your workout stats including speed, distance, and time with its three large LCD screens built in the machine.
The large footboards of the machine make it safe in starting and stopping your exercise. Positioned along the tread belts, they provide easy access for any body type, height, and weight.
Backed by Bowflex 100% Satisfaction Guarantee, you can use the Bowflex TreadClimber TC1000 for up to six weeks to try and check its effectiveness. If by then, you are not convinced with the results, you can return it and get a refund, but deducting the shipping and handling fees.
Weaknesses:

For its price, expect that it may also be cheap-looking. The 3 LCD readout windows are quite small, while the hydraulic shocks lack sturdiness.
Moreover, the over-all movement of the machine seems to be complex. It is more complicated than an elliptical trainer and a treadmill in terms of function.
Recommendations:

The Bowflex TreadClimber TC1000 is extremely popular with its affordable price. Though there are a few minor downsides on the machine, it is still worth trying out, especially since you can return it when you don't get satisfied with the result.
With its compact design, it can provide you with a low-impact, high-intensity cardio workout that's just what you need! However, before you decide to buy, you might like to first visit our best buy treadmills page to see treadmills that we recommend.
Summary:
Cost: $1298.00
Speed Range: 0.5-3.8 mph
Resistance: 0-12 resistance
Electronic Functons: Three Functions: Speed, Distance and Time
Dimensions: 46" L x 28.5" W x 55.25" H (117 x 72 x 140 cm)
Machine Weight: 185 lbs (84 kg)
Maximum Capacity: 300 lbs (136 kg)
Warranty: Motor - 1 Year; Parts - 1 Year; Electronics - 1 Year; Hydraulics - 1 Year
Features:
12 intensity settings
Large footboards along tread belts 
3 large LCD readout windows
See your workout stats: speed, time, and distance
Bowflex® 100% Satisfaction Guarantee
Some assembly required
---
Where to Buy?
If you plan on buying a Bowflex TreadClimber TC1000, I suggest you buy from Amazon.com 
Click here to visit Treadclimber and learn more
(opens new window)
---
Do You Think This Treadmill is Worth Buying?
After reading this article, do you think buyers should purchase this treadmill? Share your opinion with other visitors of this site by writing your own review. It's free, fun and easy to do. Everyone is invited to join in.

Reminder: This site would no longer publish reviews that doesn't provide any real value to other consumers.
---
Return from Bowflex TreadClimber TC1000 to Bowflex Treadclimber