BodyGuard T460XC Treadmill Review
Bodyguard T460XC Treadmill Review
The Bodyguard T460XC treadmill was one of the best treadmills available a few year ago because of its high quality performance, value for money, stylish design, and great warranty program.
However, due to better and/or cheaper treadmills being introduced yearly, this machine is currently no longer as attractive as it once was.
Is It For You?
Feature-wise, yes. Price, it depends. If you are willing to spend about $4,500 for a machine that can be used by the entire family at home and with features that can accommodate the most demanding workouts, then go ahead and get yourself a Bodyguard T460XC treadmill. But be informed also that at this price point, you can already afford commercial treadmills, which are bigger, more powerful and with better quality.
What You'll Get:
The Bodyguard T460XC treadmill prides itself with design, quality, and performance that not all manufacturers can create in one single unit. Below are the features that should get you excited if you plan on getting this treadmill.
Built with a powerful 3.4 HP continuous duty motor, the machine can withstand even the most rigorous runs and the heaviest body weight in the family. It can carry up to 400 pounds of weight, and still run smoothly and quietly.
Combined with a large 22" x 60" orthopedic belt, you can run comfortably without worrying about enough space. For extra comfort, the deck is cushioned with a durable shock absorption system that reduces stress and minimizes lateral movements, giving you a safer and more enjoyable workout.
The digital contact heart rate sensor of the machine, together with the chest strap, allows you to accurately monitor and read your heart rate to maximize your workout and make sure that you are doing the best routine you can do.
The LED display, where important stats about your workout are displayed, is easy to read and operate. With silicone keys built in the console, you can simply soft touch them to adjust your preferred settings. The speed and incline control can also be adjusted through one click of the buttons.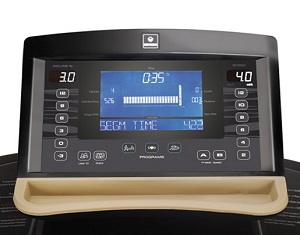 Other great features of the machine include 15 preset workout programs, the SafeGrip short handlebars, integrated reading rack, heart rate receiver, integrated bottle holder and a lot more.
Finally, backed by a great warranty program, Bodyguard guarantees that its products are of highest quality. Just in case something goes wrong with the machine, you can take advantage of its warranty for repair or replacement. It comes with a lifetime warranty for frames, motor and part, as well as a 3 years labor warranty.
Weakness:
If you will do your homework, you will find out that there are other treadmills of the same price range that offer better features and specs. (See our best treadmill page) Also, this machine is quite expensive, especially since most of its competitors have been reducing their prices for a few years now.
Recommendations:
If you are conscious with your budget, find other treadmill models with the same features at lower price – there is a lot! (See our best recommended treadmill page) However, if you don't care about the price, the Bodyguard T460XC treadmill is definitely one good unit to have.
Summary:
Price: $4,499

Motor: 3.4 HP continuous duty motor

Speed: 0.5 to 12 mph

Incline: -3% to 15%

Running Surface: 22" x 60"

Deck: 4-Way Reversible

Rollers: 2.5"

Max User Weight: 400 lbs

Dimensions: 80.5"L x 31"W x 58"H

Product Weight: 305 lbs

Warranty: Lifetime for frame, motor, and parts; 3 years for labor

Features:


• Whisper Orthopedic Belt Typ


• SafeGrip Short Handlebars


• Integrated Reading Rack


• Digital Contact Heart Rate Sensor


• ESC Natural Motion System


• Advanced Friction Detection System


• Heart Rate Receiver


• Integrated Bottle Holder

---
Where to Buy?
If you plan on buying a Bodyguard T460XC Treadmill, I suggest you buy it directly from the company through Bodyguardfitness. You can get it for just $4,499.00.


Click here to visit BodyGuardfitness
---
Return from Bodyguard T460XC Treadmill to Bodyguard Treadmills
---