BodyGuard T320X Treadmill Review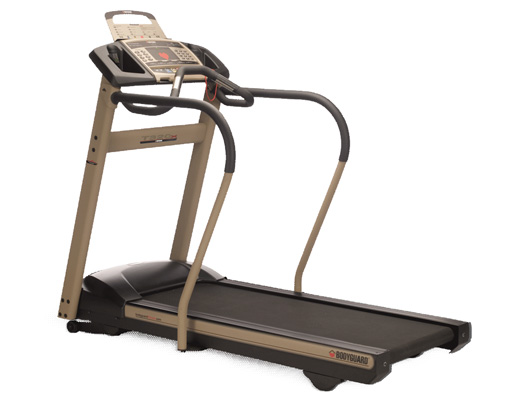 BodyGuard T320X Treadmill

The BodyGuard T320X treadmill is another one of those BodyGuard models that comes with enormous power and numerous feature.
It is considered by experts as one of the best treadmills you can buy below $4,000.
Is This the Best Treadmill for You?
If you can spend up to $4,000 for an exercise equipment, then this machine is definitely worth looking at. It provides great value for your money. The quality and warranty that it offers can be compared to those manufactured by Landice.
What You'll Get

The BodyGuard T320X comes with a 3.2 HP (DC) Palladium drive motor. This motor has speeds that reach 11 mph which is enough for most hardcore runners. And if the max speed is still not sufficient, then elevate the machine for up to 15% to increase intensity.
The 20" x 57" commercial E8 tread belt gives you enough room to move comfortably during your run. While the BDS cushioning prevents accidents by reducing impact on your joint and minimizing lateral movement.
The LED mono colored central information window with a 12 digit scrolling screen shows you necessary information regarding your workout. While the silicone keys provide users a soft touch feel. And it also comes with a customizable settings menu (Spanish, French or English).
The Contact HR Bar monitors your pulse rate by simply gripping the bar. Or if you want, you can also use the heart rate chest strap which has the same function as the HR bar without requiring you to hold on to the bar. These features are perfect for people who workout within their target heart range.
There are also 12 pre-programmed workouts included in this machine. Not only that, it also features 6 learn programs, 6 memory programs, and 4 user IDs. All these were incorporated to give treadmill users more flexibility and variety.
Other features include a reading rack that you can use to place your reading materials, a bottle holder where you can put your water for easy access, the advance friction detection system (AFDS) which prevents overheating of the motor and shortage of the drive, and the electronic stride control (ESC) which controls the speed of the machine to prevent it from changing pace especially when the treadmill is inclined.
And finally, the BodyGuard T320X boasts a lifetime warranty for its motor and frame, a 10 year warranty for its parts and wear & tear, and a 3 year labor warranty. These are some of the best warranties you will find in the industry. This simply shows how confident BodyGuard is with their product's quality.
Weakness?
The only weakness I see with this machine (if it can be considered a weakness), is that other BodyGuard treadmills provide better value for your money. But all in all, this still a strong contender in the $4,000 and below price category. (See our best buy treadmills page)
Recommendation
The BodyGuard T320X treadmill is recommended if you can afford it. But if you think that this machine is way beyond your budget, then the cheaper BodyGuard T240 might interest you. As an alternative, you may also look for other quality brands through our best buy treadmills page.
Summary:

Cost: $3,799

Motor: 3.2HP DC motor with Palladium drive

Speed: 0.5 to 11 mph

Incline: up to 15%

Belt Size: 22" x 57" commercial E8

Dimesions: 72"L x 29.5"W x 53"H

Weight Capacity: 400 lbs

Warranty: Lifetime for frame and motor, 10 years for parts, 3 years for labor

Heart Rate: Yes with chest strap

Features: 


• Customizable settings menu
• AFDS
• ESC
• 12 programs
• JustGo feature
• Silicone keys
• 4 user ID
• 6 memory programs and 6 learn programs
• DBS cushioning
• LED mono color
• Short handlebars, crossbar and end caps
• Bottle Holder
• Reading Rack
• Quickspeed keys
• Quick programs key

---
Where to Buy?
If you plan on buying a BodyGuard T320X treadmill, I suggest you find a local dealer through bodyguardfitness. It is usually sold for $3,799.00.
---
Return from BodyGuard T320X Treadmill to BodyGuard Treadmills
---