ProForm ZT4 Treadmill Review for You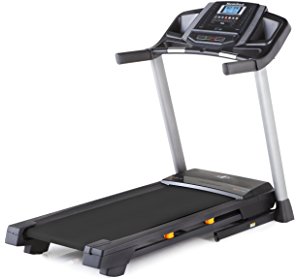 Proform ZT4 treadmill is one of the preferred for being reasonably quiet and well-equipped with exercises created and approved by professional trainers.
So, if you prefer to become healthy with a body that is energetic and always alert; then exercising with this treadmill may help a lot.
Manufactured by a known company focused on health and wellness, you may have the confidence of buying a quality product that will provide you the benefits of having a healthy and sound body.
Is It For You?
ProForm ZT4 treadmill can make your at-home workout routine more fun and comfortable with its many user-friendly features.
If you prefer an exercise machine that you can manage on your own, then I may say that this treadmill is for you. It is easy to fold and unfold, and even move around your room. It is also relatively lighter than other models with only 160 pounds.
Its built-in programs for workouts which are created by certified and professional trainers may provide you the type of exercise that you need,
Apparently, at-home exercises or workouts are the trend nowadays since it provides a safer and more controlled fitness program.
Weighing 300 pounds is no problem with this treadmill since its maximum weight capacity is just about that.
What You'll Get
With ProForm ZT4 treadmill, what you will get is an exercise machine with a total dimension of 67.2 inches by 30 inches by 11.2 inches and a weight of 160 pounds.
The motor which provide the power of this treadmill can withstand your daily routine even how prolonged or challenging it would be. Therefore, if you are into a more extreme type of workout routine, you may obtain what you aim to get from this model.
You can also make use of the 16 different built-in programs which are created by certified trainers who are well-versed with different exercise methods and models.
Weaknesses
If you want to have your burned calories known based on your height and weight, you will not be able to do it with this treadmill. Other models may provide that information that you need.
There are a few deliveries with defective motor after being used for about six months. Sometimes, customer service seems not to be helpful.
Also, there are a few units with defective screws and won't fit the holes where it should be attached.  Just the same, you may get other screws that fit into the holes with a little cost.
Strengths
It is somewhat lightweight with only 160 pounds making it uncomplicated to move around your home or room.
Assembly is simple, but if you are not a do-it-yourself person, you may always ask for assistance.
There is a big possibility that if you continuously use this treadmill for a couple of months, you may lose about 15 pounds according to some users.
The springs and cushioning on this treadmill may provide you a comfortable and relaxed workout. If you prefer variation, the 16 built-in programs is a big help.
The folding capabilities of this treadmill make it easy for storage especially if your space at home is not that big.
Recommendations
This treadmill is recommended for those who prefer walking or running at the convenience of their homes instead of facing unwanted challenges outside.
However, it is advisable to check out other models and specifically this treadmill before making a purchase to ensure that you are getting the one that suits you well.
Also, trying out the unit yourself will provide you the information and experience you need in making a wise decision.
Summary
Brand and Model:  ProForm ZT4
Color:  Black
Motor:  2.5 CHP Mach
Product Dimensions:  80 inches x 37 inches x 60 inches (LxWxH)
User Weight Capacity:  300 pounds
Workout Fan:  5-inch CoolAire fan
Cushioning:  Pro Shox cushioning
Workout Programs:  16 built-in programs for workout
Design:  Space Saver design
Folding:  Yes this treadmill is folding type
Audio:  iPod compatible
Display:  LCD window display, large
Incline:  10 percent incline with quick control
Belt:  18 inches x 50 inches
Prices:  Between $524 and $564
Warranty:  5 years warranty on frame and motor and 90 days warranty on parts and labor
Where to Buy?
You can procure this treadmill at different online sellers such as Amazon.com, but at the moment, Amazon has a list of existing sellers that you can contact.
Still, the best place to buy it is directly from the manufacturer.
---