ProForm Performance 600i Treadmill Review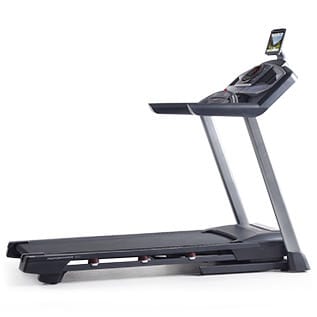 How would you like have convenient fitness training by just a touch of a control button? ProForm Performance 600i treadmill delivers button controls to adjust your incline and speed for a more challenging exercise.
This treadmill is an iFit compatible so you may easily download a Google application for a route or map that will boost your fitness program.
As you read further, you will discover more about this treadmill that may aid you select the most fitting treadmill for your daily fitness workouts.
Is It For You?
Accordingly, it will not matter if you are 20 years old or 60 year old to purchase this treadmill. A 60-year old can easily assemble the machine in about three hours without any problem.
This treadmill is extremely solid which may offer you safety while walking or jogging on it. Doing more challenging routine is also safe on this machine.
The motor is quiet compared with other treadmills. So, even if you are listening to your favorite music while exercising, you will not be bothered with while the motor is running.
What You'll Get
ProForm Performance 600i treadmill is compatible with iFit and if you purchase the product itself, you will receive a free subscription for one year.
The tread belt for this treadmill measures 20 inches by 60 inches which is a good measurement for any mode of exercise, may it be walking, brisk walking, running or jogging.
The machine itself is sturdy and solid so the above-mentioned mode or type of exercises is doable on it.
This treadmill is also equipped with a workout fan by CoolAire to make your workout convenient and comfortable.
Weighing above 300 pounds is no problem with this treadmill since the maximum capacity of it is 325 pounds.
Weaknesses
It is inevitable for some units of this model to be delivered to you with a little problem.
Common complaint is the package to be dent or damaged. However, the inside content is not affected.
There are also a few instances wherein after using the treadmill for a couple of months, the motor won't work already. The good thing is that this treadmill is covered with warranty.
Strengths
In general, this treadmill is silent and the sound of the belt when thump by your feet is not troubling either.
The positive and negative controls for incline and speed are very useful and convenient for your day by day use of the treadmill. The diminutive increments enable you to regulate your routine to a more challenging one progressively.
On your own, you can easily fold and unfold the treadmill because of its easy lift and space saver designs. This is very convenient even if you are alone at home.
Recommendations
Personally, I have used a couple and owned a few treadmills since I started to be engaged in getting myself fit and healthy.  One of the brands I appreciate having is ProForm, not only of its designs, but also because of its durability.
My experience might be different with others, so it would be best that you also try to read other reviews about this product and if you find that we almost say the same thing about this treadmill, then it may be good for you too.
Testing or trying out before purchasing is also a good practice in order to decide properly and effectively.
Summary
Brand and Model:  ProForm Performance 600i Treadmill
Design:  Easy Lift Assist and Space Saver designs
Belt Size: 20 inches by 60 inches
Cushioning:  soft cushioning by ProShox
Maximum Capacity:  325 pounds
Workout Cooling:  workout fan by CoolAire
Compatibility:  IFit compatible and iPod Audio compatible
Maximum Capacity:  325 pounds
Shipping Weight:  224 pounds
Warranty:  Lifetime warranty on frame and motor, 2-year warranty on parts and 1-year warranty on labor.
Where to Buy?
Online shops such as Lazada, Walwart, and Amazon carry these types of exercise machines where you can try.
If you prefer to maximize the use of warranties, you may go directly to the manufacturer or its authorized distributors.
---