ProForm Performance 400i Treadmill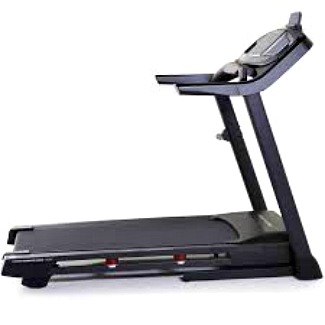 ProForm Performance 400i Treadmill is manufactured by Pro-Form, one of the popular manufacturers of treadmills worldwide. This treadmill model takes pride in providing 10 MPH maximum speed. It also comes with an energy-saving feature that helps you save on electricity even if you run daily.
Is It For You?
If you are looking for a treadmill that is compatible for all levels of training, then ProForm Performance 400i Treadmill is the perfect product for you.
This treadmill can withstand both intense and light workouts and the motor can cool internal components in order to increase the lifespan of its drive system. Thus, this treadmill will be economical for you.
The LED Lights display can tell you instantly whether you are in the Peak, Tempo, or Endurance zone. If you want a steady and slow workout, Endurance is a good area. To reach your maximum cardio stage, Peak is your phase. To have a phase based on your weight with an ideal heart rate, Tempo zone is the ideal phase.
Want to boost your performance? The Quick Incline with an inclination from 0 to 10% is one of the favorite features of this treadmill. You can easily adjust the inclination without interrupting your stride.
What You'll Get:
ProForm Performance 400i Treadmill is manufactured and designed to provide training for all levels.  Getting into the perfect shape is achievable with this product.
This treadmill has everything to get you into a race day shape. To take care of your endurance, interval and speed, this treadmill's 2.5 CHP Mach Z motor.
You can push yourself more with the built-in workout applications for 18 programs that are masterfully designed by certified trainers.
Keeping yourself within the right cardio zone is provided by the EKG grip pulse rate monitor.  This is very important especially for elder people who still want to keep in shape, but have some heart or blood pressure issues.
You need not worry about hurting your joints in every step of your workout since this treadmill uses the ProShox cushioning that can help reduce the impact on your joints.
Space saving is incorporated in the design of this treadmill making it very easy for you to install and store it at your home.  The tread belt has a measurement of 20in x 55in and the length of the deck is 19in.
ProForm Performance 400i Treadmill also comes with CoolAire Workout Fan and a weight capacity of 300 pounds.
Weaknesses:
Few owners find the 2.5 feet raised position as disturbing, but not really a problem since it is not that enormous.  One other issue that can easily be resolved is the tripping of electrical breaker. It is not because of the machine but, a surge suppressor should be installed to enjoy the treadmill even to its maximum speed. For some owners who are not into assembly, putting up the machine might be a concern. All they need to do however is to hire a person to assemble it.
Strengths:
Most users of this treadmill claims that it works well. They experienced no electrical issues and installation is no problem.
Owners of ProForm Performance 400i Treadmill say that the power efficiency booster and decimal QuickSpeed controls are the best features of this product.
Recommendations:
If you are a versatile workout enthusiast, this product will be best for you. If you also consider price and durability, you have the right product on hand. However, it is still best that you try it out first before making the final purchase.
Summary:
Price: $999.00
Motor: 25 CHP Mach Z motor
Length: 19 inches
Tread Belt: 20 inches x 55 inches
Cushion: Proshox Cushioning
Design: Space Saver Design
Shipping Weight:  200 lbs.
Warranty: Lifetime Warranty on frame, 1-Year Warranty on Parts and Labor, 25-Year Warranty on Motor
Where To Buy:
Still, the best place to buy ProForm Performance 400i Treadmill is from the manufacturer. However, there are many sellers that offer discounts and promotions which are worth checking out.
---