ProForm 505 CST Treadmill Review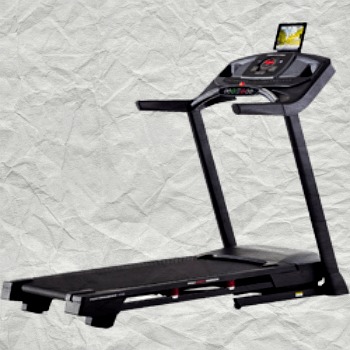 ProForm 505 CST Treadmill is created with space saving design that folds to enable users move it anywhere and store conveniently.
This treadmill is produced by ProForm which is known for creating quality treadmills at reasonable prices.
Is It For You?
ProForm 505 CST treadmills are for people who weigh less than 325 pounds which is the maximum weight for users. So, if you weigh more than 325 pounds, consider looking at other models or brands.
Do you have a certain workout routine that you know or would like to do when you use a treadmill? If you don't, you can try any of the 18 fitness programs integrated on this model. You may try it all before selecting which one really suits you well for a start.
Start moving and become healthy with this treadmill. If you are a person who is concerned about having good health and maintaining an active body, I can say that this treadmill is for you. One thing you need to do though is to check this out and learn more about it.
What You'll Get
With 505 CST model of ProForm treadmill, you will get a lot of things.
You can get extra burn for your legs with the 10 percent incline. Inclination is from zero to 10 percent range.
The motor of this model is created with high quality parts that remain to be cool during your total workouts. Even how tough your workout is, it would still be smooth and quiet because of this quality motor.
The big size motor of this treadmill can also provide you with the speed you desire without much consumption for electricity even when used daily.
You will have a very comfortable and roomy deck for your walk as well as jogging or running. Doing a long stride is not a concern with this treadmill deck.
Another plus factor is the incorporated 18 workout applications you can use. You will not have a difficulty looking for a program that will suit you. You can try all the programs and select which you preferred most.
Good cushioning is provided by ProShox which will give you the comfort you need when doing your workout.
Weaknesses
Most of the people who bought this unit complained of difficulty in assembly. They observed that the screws are not labeled which added to the job of assembling the treadmill.
There is a possibility of spending a little extra for the assembly which is somewhat hassle to a few buyers.
Strengths
This product to many is a great product. Its belt is smooth to use and the sound is not a concern.
The incline and decline speed is fast enough which can make your exercise more challenging if you prefer.
Your strides may become very smooth and there are no high or low portions on the entire deck which makes your walk or run very consistent.
It is very strong and sturdy which make workouts comfortable and safe.
You may have a great product for a very reasonable price. This seems not much expense for being healthy and fit.
Recommendations
This ProForm 505 CST Treadmill is good for those who wants a workout that is a bit challenging and do prolonged exercise.
If the price is agreeable to you and you really want to get started with a program to stay healthy, this could be a good beginning.
However, it is highly recommended based on some reviews I also have read to get somebody knowledgeable help you with assembly.  Getting an expert to help for the assembly of this treadmill will guarantee your safety and eliminate stress in getting it ready for your exercises.
Summary
Color:  Black
Design:  Space Saver Design
Dimension:  70in by 34in by 59.5 in
Maximum Weight Load:   325 pounds
Cushioning:  ProShox Cushioning
Compatibility:  IPod compatible, audio
Incline:  zero to ten percent incline
Motor:  3.0 CHP motor
LCD Window:  Large LCD window to see speed, mileage, heart rate, calorie burn     and your time
Programs:  18 workout programs with easy access button
Warranty:   Limited warranty
Where to Buy?
You may purchase this model of ProForm treadmill either directly from the manufacturer or any reliable sellers such as Amazon.com.
---