ProForm 305 CST Review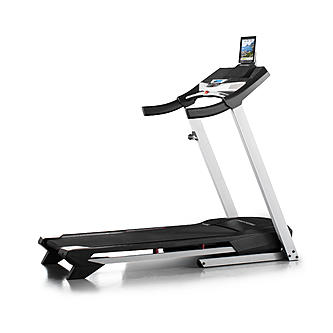 How about breaking out of your monotonous gym routine and have your own personal program? Proform 305 CST may provide you the workout you aspire for.
All you have to do is to learn more about this treadmill by reading reviews or trying out actual unit in order to get that "feel" of walking on it.
Is It For You?
Want an easy to assemble and use treadmill that may suit all your needs? Then, this treadmill may be the correct unit for you.
Attaining a smooth ride and easy use is sometimes difficult to achieve, but checking out different models according to your preference may help. This assessment on ProForm 305 CST may not that complete but it talks about the universal information about this treadmill that may be useful to you.
A folding, with workout apps and other very useful features treadmill is what most users would want to have. Read on and know for yourself if this is for you or not?
What You'll Get
With this running machine, you will get a treadmill with 2.0 CHP motor drive system that is foldable and space saving.
It is easy to move around with the easy to lift system. Using it is also very comfortable since the cushioning is provided by ProShox and the space for walking or running is 18 inches by 50 inches.
If your weight is 300 pounds and below, this treadmill model is appropriate for you.
You will also have the convenience of listening to your favorite music while exercising with the provision of audio port and speakers. Getting fit is also achievable with the workout apps that are included in this treadmill.
Want assurance for the value of your money? The warranty this treadmill carries may provide you that.
Weaknesses
There are some instances that the delivered units have broken parts and takesome time to be replaced.
Also, there are a few units that have system or parts that are not working when delivered. Otherwise, this treadmill model is a great one to own.
Strengths
Many considered this treadmill as a great product due to its usefulness and features.  It is easy to assemble and provides the basic needs of someone who wants to start getting healthy.
The inclusion of 16 workout apps is very helpful. Cushioning is also superb at it provides comfort when working out.
For fast walking, the size of the treadmill belt is just ideal. You may also do a slow run on it without any difficulty.
The speakers are working very well with tablet holder that provides relaxation in watching a favorite program while exercising.
Recommendations
This treadmill is recommended if you prefer a smooth ride when exercising. Also, if you prefer a treadmill that is easy to assemble and convenient to use and store.

There might be a few apprehensions, but you can resolve it by contacting the customer service or the manufacturer.  You may also get professional help to get rid of any inconvenience.
Summary
Brand and Model:  ProForm 305 CST
Motor:  2.0 CHP Drive System
Design:  Space Saver Design
Tread Belt:  18in by 50in
Speed:  zero to 10MPH
iFit:  It is iFit compatible
Incline:  zero to 10 percent incline
Program Apps:  It has 16 built-in apps
Cushioning:  It is cushioned with ProShox
Heart Rate Monitor:  EKG grips monitor
Display:  LCD Display with large display
Audio:  Built-in with audio port and speakers
Holders:  Provided with Tablet holder
Weight Load:  300 pounds maximum
Price:  $399.99
Warranty:  5 years warranty
Where to Buy?
You can purchase this treadmill at any trustworthy online sellers such as Amazon or WalMart. If you prefer, you may also purchase it directly from the manufacturing company.

---