Nordic Track C 990 Treadmill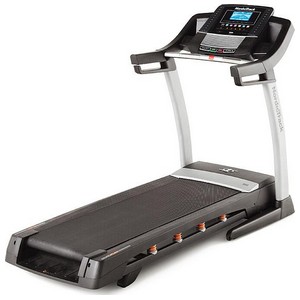 Nordic Track C 990 Treadmill has the high-tech features that enable you to choose from a library of workouts that can match your needs.
This treadmill has customized cushioning and fan that can make you feel comfortable and cool while doing your workouts.
Is It For You?
Coming off from a gym membership but needs to continue your workouts? Then Nordic Track C 990 Treadmill might be a good treadmill for you.
You can actually stay cool while doing your workout with a fan that can either automatically adjusts its speed according to your workout force or be manually adjusted from the console.
I am particular about cushioning. How about you? The double cushioning isolators of this product may help reduce the impact on your ankles and knees.
Being able to change the workout settings without interrupting your workout is a good feature of this treadmill. With one touch on a single button, you are able to adjust your inclination between 0 and 12 percent.
What You'll Get:
Nordic Track C 990 according to its manufacturer has received "Best Buy Award" by top review sites.
This product is iPod sound system compatible. Enjoy listening and stay motivated by simply plugging your iPod into the console sound system. The 2-inch speakers produce high quality sound that you may motivate you more to workout.
iFit provides an extensive library of customized goal trainings, workouts, routes from Google Maps, and many more. You may access iFit with the C990's web-enabled 7-inch touchscreen for a training program suited to your needs.
The tablet holder can be easily adjusted to your viewing preference angle. This feature can make your workout more enjoyable as you can easily watch your favorite shows or movies.
Is monitoring your heart rate important for you? The Dual CardioGrip heart rate monitor sensors built into both handle bars for accurate and quick reading can provide easy monitoring of your heart rate.
This machine has an accessory tray positioned between the uprights for keeping your towel and other items you need to be close at hand.
Weaknesses:
IFit technology is a good thing, but if you are not subscribed, it becomes useless. Subscription is an additional expense for you.
The treadmill is a little heavy and you might have difficulty in setting it up. Therefore, you may need additional hand in order to assemble it.
Strengths:
Per the experience of some users, this treadmill is durable and helpful in protecting your knees during runs.
Your tablet can be secured safely while you workout with the built-in sturdy shelf. If you like watching shows or hearing music, you may do so while working out as your tablet sits safely on your treadmill.
Recommendations:
The iFit programs feature of this treadmill is highly recommended by most users. One reviewer from Amazon.com claims that one of the features that make this product special is its automatic raising of the incline when going uphill. This feature makes her workouts both challenging and interesting.
Summary:
Price: Web Price $1,999.00  Sale Price  $999.00
Motor: 3.0 CHP Motor
Walking Belt: 20in x 60in
MPH Speed: 0 to 12 MPH
Weight Capacity: 300 pounds
Incline: 0 to 12%
Roller: 2.5in Roller
Footprint: 78.3in L x 35.75in W x 56.4in H
Touchscreen: 7in Web-enabled touchscreen
Fan: Autobreeze Workout Fan
Sound System: Ipod-Compatible
Apps: 32 Workout apps
Warranty: Lifetime warranty on frame and motor, 3-year warranty on parts and 1-year warranty on labor
Where to Buy:
You can purchase this treadmill directly from the manufacturer or at any of its authorized sellers. It is best that you check out first prices and reliability of the supplier before purchasing.
---