Weslo Cadence C22 Treadmill Review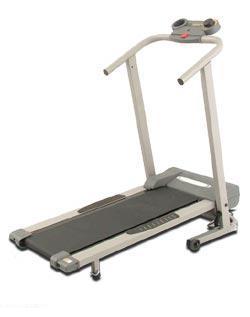 Weslo Cadence C22 Treadmill

The Weslo Cadence C22 treadmill is priced below $200.
And with a price tag like that, expect to get an extremely low quality treadmill.
Is This Your Best Buy Treadmill?

No. I don't think this treadmill is for anyone. If you're short on the budget, I suggest you visit our best buy treadmills page and look for other budget treadmills. I don't recommend this model.
What This Treadmill Offers?
This treadmill offers a 1.0 HP motor to give you speeds that reaches only up to 5 mph. A motor with this power is only good for light walking.
It comes with a 13-inch x 40-inch tread belt. I don't think a lot of people would be comfortable even walking on this small surface.
The The Step-by-Step™ Workout Console lets you keep track of your speed, time, distance, calories and fat calories burned.
The manual incline allows you to increase the intensity of your walk. This treadmill comes with 3 incline lock positions (5%, 7%, 9%). The more incline the treadmill is the harder the workout.
One positive feature the Weslo Cadence C22 treadmill has is that it is foldable. It's built with SpaceSaver® Technology so you can easily fold this treadmill to save space in your home.
What it Lacks?
Too many to mention.
Recommendation
I don't recommend this treadmill. Period! See our best buy treadmills page and look for better alternatives to this unit.
---
Summary:

Price: $199
Motor: 1.0HP
Speed: 0 to 5 mph
Incline: (manual) 5%, 7%, 9%
Tread Belt Size: 40" x 13"
Foldable: Yes
Heart Rate: No
Features:
• Step-by-Step™ Feedback Console
• Space Saver® Technology
• 3-Position Incline
---
Return from Weslo Cadence C22 treadmill to Weslo Treadmills
Check and compare Treadmills here before you buy any.
Check my pricing, ongoing promotions, manufacturer, mark and model, etc then make a decision.
Do You Think This Treadmill is Worth Buying?
After reading this article, do you think buyers should purchase this treadmill? Share your opinion with other visitors of this site by writing your own review. It's free, fun and easy to do. Everyone is invited to join in.

Reminder: This site would no longer publish reviews that doesn't provide any real value to other consumers.