Nordic Track C2155 Treadmill Review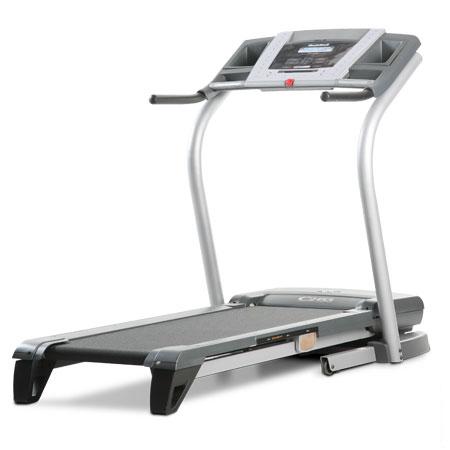 Nordic Track C2155 Treadmill

The Nordic Track C2155 treadmill is one of the best sub-$1,000 treadmill in the market today.
It is the upgraded version of the successful Nordic Track C2255 and from the looks of it, this would be an even bigger success than its predecessor.
Is This for You?
Although this is one of the best starter treadmills in the market today, I still don't think that it will suit hardcore runners.
This machine was built for novice runners and walkers.
So if you don't plan to run on it much, then this equipment is definitely for you.

Update: This treadmill has been discontinued.

As an alternative, you might want to visit our best treadmill page to look for similar treadmills that we recommend.
What You'll Get
The Nordic Track C2155 boasts of a 2.0 continuous duty horse power commercial DurX™ drive system. It has speeds of up to 10 mph and inclines for up to 12%. And with the 1-touch speed and 1-touch incline controls, changing the intensity of your workout becomes so much easier.
This machine features the popular iFIT® technology. Just plug your iFIT card to the console and you'll workout as if you have a personal trainer beside you talking to you. It automatically controls the speed, incline and duration of your workout depending on your personal goals. And if that's not enough, you also have 15 personal workout programs to choose from.
The 20" x 55" tread belt offers enough room for brisk walking and jogging. Plus, it comes with DuraSoft™ III advanced cushioning which was proven to help reduce impact on your joints from 26% to 33% compared to running outside. And the good thing about it is that it is adjustable so you can alter the cushioning to your liking.
A Grafixx™ high-resolution display is also included to this machine. Other than monitoring your speed, time, pace, distance, incline, calories burned, carbs burned and pulse, it also utilizes an animated figure walking or jogging through your workout with you.
Another feature is the AutoBreeze™ fan which has 4 settings low, medium, high and AutoBreeze™. The AutoBreeze™ function automatically adjusts the airflow of the fan depending on the intensity of your workout. This helps keep you fresh during long workouts.
Other features include the SpaceSaver® which folds the treadmill vertically so you can easily store it after use, the Interplay™ Universal iPod® dock where you can plug your iPods or MP3 players to keep you entertain during workouts, and the training zone indicator which measures training intensity then displays the result in a simple, multi-colored light meter.
Weakness
Just like most entry-level treadmills, running on this machine is not advisable. It may be one of the best starter treadmills in the market today, but it is still a starter treadmill so it will still succumb to hardcore running.
Recommendation:
If you're looking for an entry level treadmill, then you're reading the right review. The Nordic Track C2155 treadmill comes highly recommended for people who are on a limited budget. As an alternative, you may also want to look at our best buy treadmills page to look for other quality treadmills in different price ranges.
Summary:

Cost: $599
Motor: 2.0 CHP Drive Motor
Running Deck: 55"L x 20"W
Speed: 0 to 10 mph
Incline: up to 12%
Foldable: Yes
Heart Rate: Yes
Maximum User Weight: 300 lbs
Warranty: lifetime for motor and frame, 1 year parts and labor
Features:
• Grafixx™ Display
• CardioGrip™ Heart Rate Monitor
• 15 pre-programmed workouts
• iFIT® Workouts
• AutoBreeze™ Fan
• SpaceSaver®
• DuraSoft™ Adjustable Cushioning
• Interplay™ Universal iPod® dock
• Training Zone Indicator
---
Where to Buy?

If you plan to buy a Nordic Track C2155, I suggest you buy from NordicTrack. They have this on sale right now. You can get it for just $599 with free shipping.

Once again, if you plan on buying this machine I suggest you buy here

Click here to visit Nordic Track Treadmill Sales page.
---
Return from Nordic Track C2155 Treadmill to Nordic Track Treadmills
Check and compare Treadmills here before you buy any. Check my pricing, ongoing promotions, manufacturer, mark and model, etc then make a decision.
Do You Think This Treadmill is Worth Buying?
After reading this article, do you think buyers should purchase this treadmill? Share your opinion with other visitors of this site by writing your own review. It's free, fun and easy to do. Everyone is invited to join in.

Reminder: This site would no longer publish reviews that doesn't provide any real value to other consumers.
Read Visitor's Contributions
Below, you can comment or read opinions of other consumers...

Once again, if you plan on buying this machine I suggest you buy here

Click here to visit Nordic Track Treadmill Sales page.
Apr 25, 15 01:53 AM

Life Fitness Club Series Treadmill is a Good machine, however, if the rear leveler breaks there is no replacement available. Spare parts for this machine